TPBank received a series of prestigious international awards
On March 24th and 25th, 2022, TPBank was honored to receive many prestigious domestic and international awards. This is the result of a thorough strategy in development and innovation based on customer understanding and especially excellent digital platform.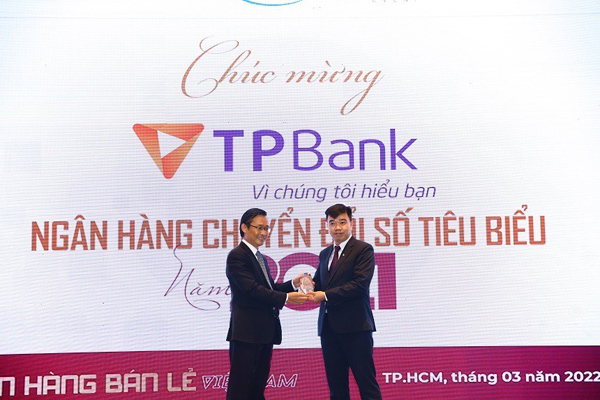 The Asian Banker, the leading prestigious magazine in the field of Finance and Banking in Asia, recognized TPBank as the best digital bank and digital ecosystem in Vietnam. IDG Vietnam - a member of IDG International Data Group, also highly appreciated TPBank in 3 award categories: Typical Retail Bank, Typical Digital Transformation Bank, Bank with Products/Services creative with "your Nickname/Shopname Account". At the same time, AIBP - a Singapore - based consulting firm on growth initiatives also awarded TPBank the Innovative Enterprise Award.
Award for Best Digital Bank and Digital Ecosystem in Vietnam
After many rounds of appraisal and comparison with other Banks in the region, The Asian Banker Research Director, Mr. Mobasher Kazmi praised TPBank's long-term vision and digital banking development strategy, especially their investment in the digital ecosystem. "TPBank has shown significant strides in its digital journey by owning an ecosystem with a range of comprehensive, customer-centric products and services that respond to needs based on customers' lifestyle and habits."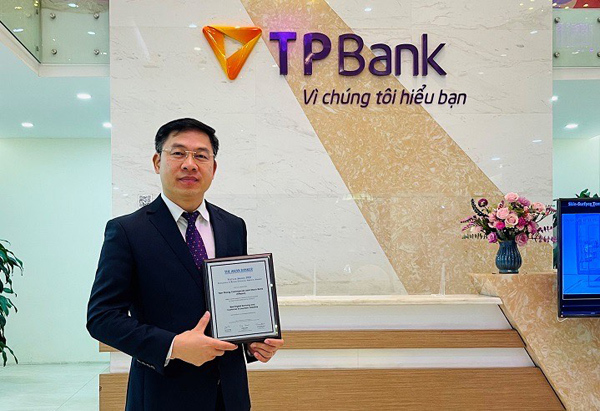 Actively anticipating future trends, TPBank focuses on new technology platforms, builds big data warehouses and applies data analysis capabilities to the digitalization journey, to always be "one step ahead of the market" about digital conversion. TPBank applies digital creativity from the foundation layer such as Artificial Intelligence (AI), Machine Learning, Big Data, Cloud Computing to the solution layer such as biological identification, biometrics, character recognition and automation with robots.

In the product - service layer, TPBank continues to build and bring to customers a comprehensive ecosystem of Financial - Banking products for the digital era, where financial and transaction solutions are "tailored" according to the needs and habits of each individual user. TPBank's digital services segment in 2021 accounted for 93% of total transactions, with the average service value increasing by 250% per month compared to 2020. According to TPBank's representative, this achievement has continued to create a foundation firmly for the future development, affirming the banking position of the digital era.
IDG Vietnam honored 3 awards
IDG Vietnam also highly appreciated TPBank when recognized TPBank to 3 prestigious awards at the same time. This is an annual award organized by IDG Vietnam in collaboration with the Vietnam Banks Association with the goal of finding and honoring Banks with innovative products and services in the year, with digital transformation achievements, contributing to the success of the Banking industry, part of improving the efficiency of retail operations in particular and Banking operations in general. In particular, this is the third year in a row that TPBank has received the Outstanding Digital Transformation Bank award - a worthy recognition for their efforts and successes in recent years.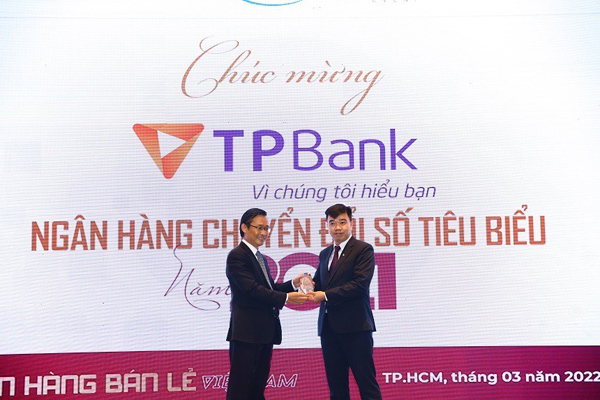 Mr. Nguyen Hung, General Director of TPBank shared: "TPBank continuously innovates thinking, actively creates, cooperates with the world's leading technology companies to deploy multi-channel digital platform projects, effective and sustainable, flexible in scale to match the development and expansion orientation of the Bank in the future. The Bank focuses on building breakthrough products that bring the best experiences to customers. TPBank's massive ecosystem can serve multiple customer requests at the same time, demonstrate the consistency and synchronization of customer experience across all transaction channels. We have now entered phase 2 of Digital Innovation."

A product of TPBank called Nickname/Shopname also made a special impression when owning an IDG Vietnam award right after it was launched a few months ago. The product allows customers to turn long strings of account numbers into compact, easy to remember, with their personal brand. Shop owners can also use their own store brand name to do account number, which is both convenient for customers and increases the prestige of the brand. At the same time, the product also has comprehensive support with a strong technology foundation, intelligent and scientific cash flow management. In just the first week, TPBank recorded 25,000 registered customers, of which 80% were new customers. In just 3 months since its launch, the number of customers using this service has reached 300,000, it is expected that in 2022 it will reach the milestone of 1,300,000 customers using this service.
The strong development of digital banking has brought outstanding growth rate to TPBank. The number of opening payment accounts via online channels has surpassed traditional channels at the counter, accounting for 80% of new customers each year. The average number of transactions on digital channels has grown by 120% per year, especially during the pandemic time when traditional channels tend to decrease. Transaction value from digital services reaches 55 trillion VND per month, reaching an average of 130% per year, the proportion increases sharply and more than double compared to traditional channels in 2021.
Read more: GEEK Up nâng cao trải nghiệm người dùng cho Ngân hàng số Tiên Phong

Source: vietnamnet.vn
Get latest updates from GEEK Up