GEEK Up expert shared at UXVN Festival 2022
As a part of the UXVN Festival 2022 event, "The Festival'' is expected to bring much interaction, cohesiveness and inspiration from leaders and senior managers in the "universe" of Product Design, UX Research, UX Writing, and UX Career. Mr. Hoang Nguyen (Head of Product Design) represented GEEK Up to share at this event. This article will show you the highlight of this sharing.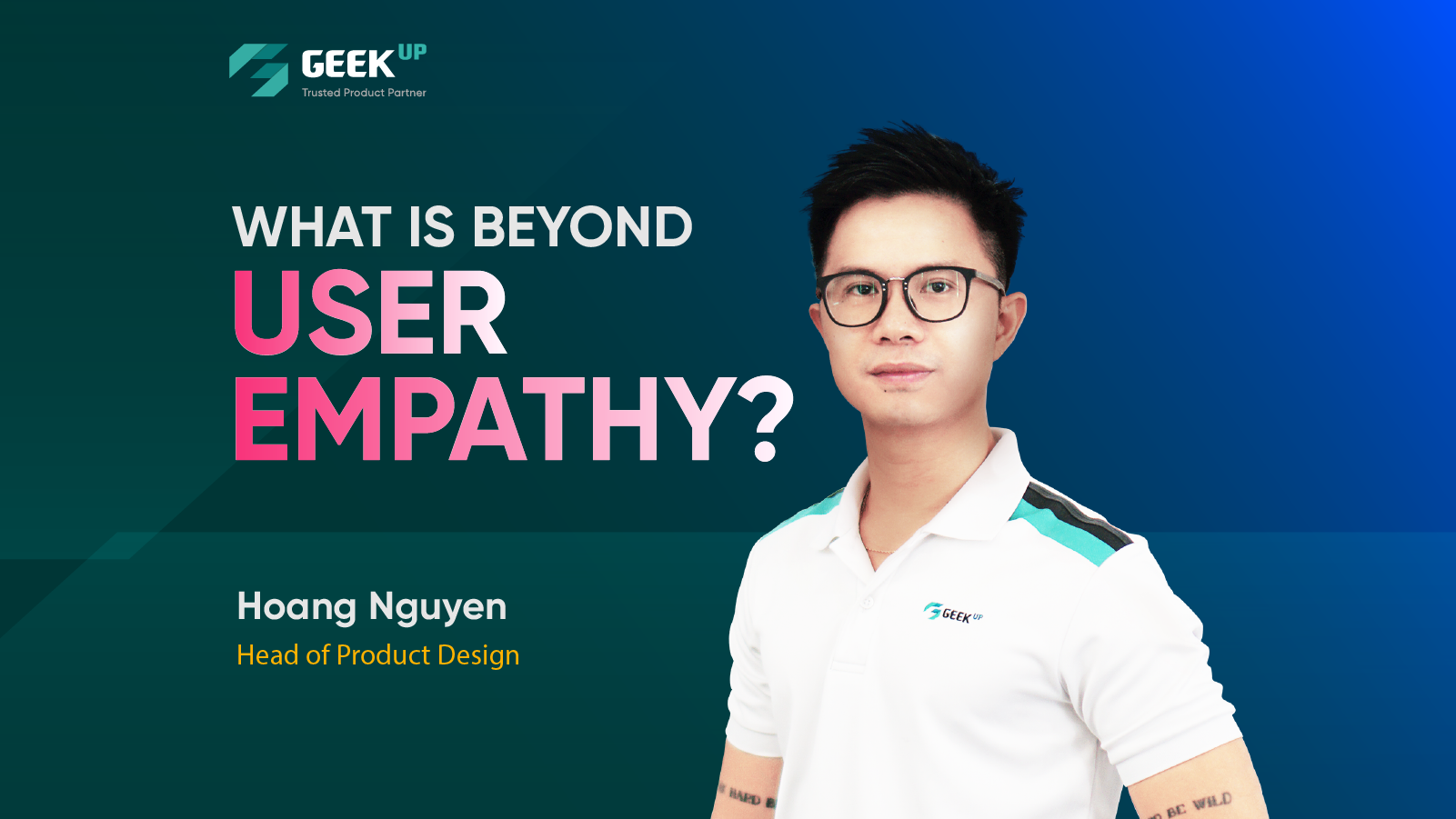 As a product designer, you probably understand the importance of "empathy" to create the "best product" for users. However, do you know that is still not enough?

It cannot be denied that User Centric is the compass for Product Designer. This means that taking users as a center to create products and services brings great experiences to them.
To put an object at the center, we need to build empathy on that object. There are four levels of empathy:
- Level 1 - Pity: Feel pity for the user's pain
- Level 2 - Sympathy: Acknowledge the user's pain
- Level 3 - Empathy: Fully understand the user's pain
- Level 4 - Compassion: Be willing to work with the person to relieve their pain

The more time and effort you invest, the higher level of empathy you gain. Insights make quality interactions. For product design work, due to time and cost constraints in studying users' files, which are often diverse and large, it is difficult for designers to continuously interact and understand more about users. This can prevent them from reaching higher levels of empathy and often stop at level 2 or 3.

To build a good product, not only "empathize" with users, Product Designers also have to be "compassionate" with all those who are contributing to make the product better for users. Since a digital product can create positive values ​​for businesses and bring good experiences to users which is a balanced combination of 3 factors:
- Business Goal
- User Experience
- Optimal Technology

Therefore, Product Designers should not only focus on developing expertise in the User aspect, but also must be a bridge between business and technology, through appropriate design solutions. With the goal of creating valuable products, designers will need to add compassion to their entire team. At GEEK Up, we have incorporated this concept into our "Impactful Product" philosophy.

Sometimes we just need to change our perspective and mindset to understand that different professional positions will have different languages ​​and ways of looking at an issue from different perspectives. We won't need to focus on protecting our users all the time and forget about the business challenge. So User Centric is the way to start, and Product Centric will be the end.
Get latest updates from GEEK Up