Recap event One-stop-shop banking: Transforming or being left behind?
On March 31st, 2022, the Digital Product in Action (DPA) #7 event organized by GEEK Up took place successfully with the interest of nearly 200 registered customers of management level from Banks and Financial institutions in Vietnam.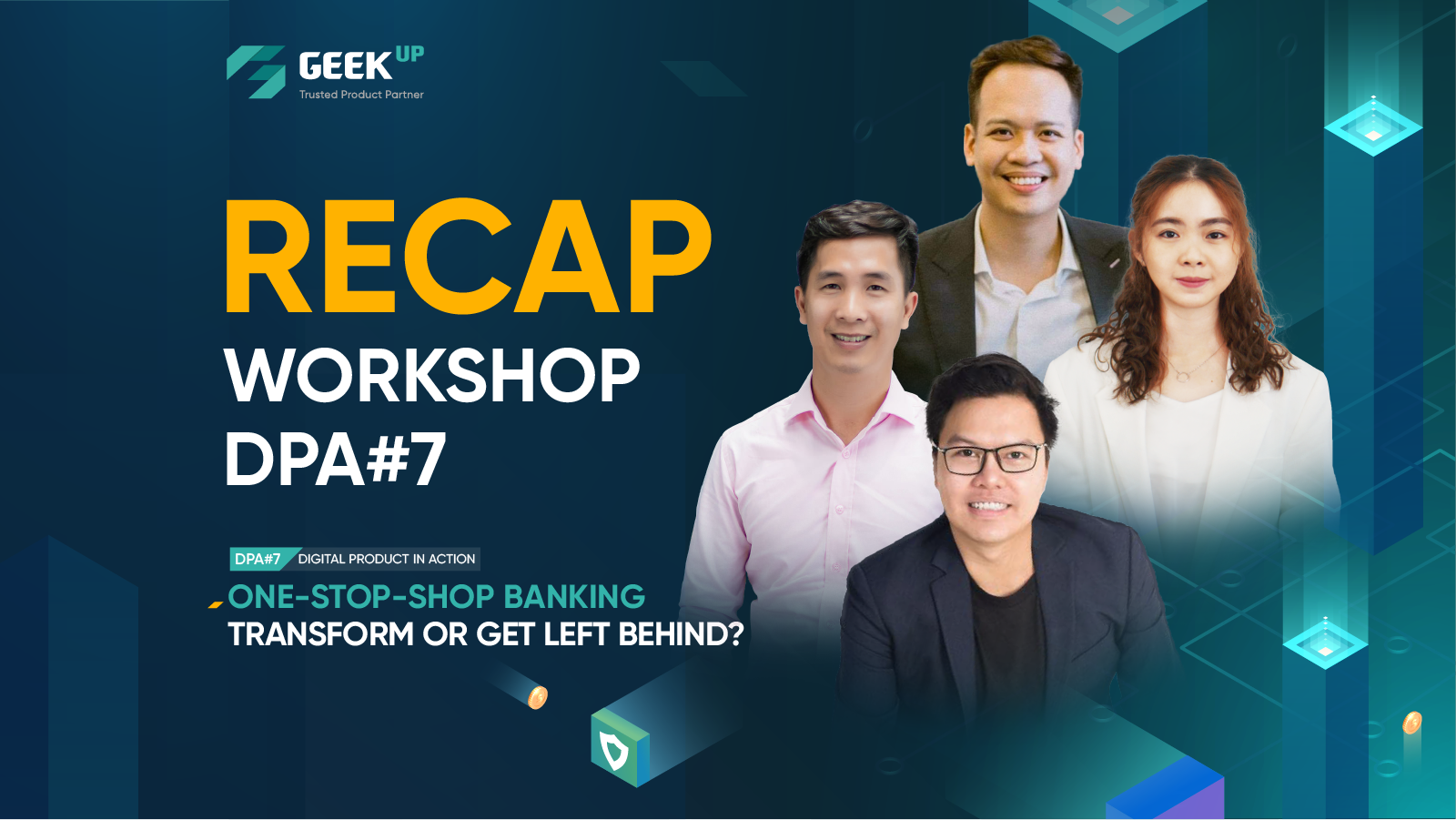 At the workshop, experts from GCOMM, Insider Vietnam, Vietnam's leading digital bank, and GEEK Up discussed their insights and real-world experience around the topic of building a hyper-personalized experience on the super application "one-stop-shop" in Banking industry for Gen Z & Millennials. In particular, the event received the participation and lively exchange of the attendees with more than 90% of the attendees staying until the end of the discussion session.
The problem of customer segmentation of the "unplanned shopping" generation
According to expert from GCOMM - Mr. Thien Tran, currently, 46% of Gen Z & Millennials women shop unplanned. They do not care about the intended use and the purchased item can only be used 1-2 times. Meanwhile, men tend to "pay more". They buy very high value goods, based on personal preference and with the intention of long-term use.
Although shopping behavior can be diverse in both sexes. But in general, today's young customer group wants everything to be "the best, most convenient and most accessible".
Returning to the problem of approaching a modern young customer group, Mr. Thien said that the Vietnamese market still has a lot of room for retail Banking and Financial organizations to develop. Statistics from GCOMM show that up to 59% of consumers are not aware of e-wallets. With 41% of them already aware of e-wallets, only 27% tried it out and only 21% decided to use it. This shows that the Digital Banking - Finance market in Vietnam is still open even though the industry ecosystem seems to be "crowded".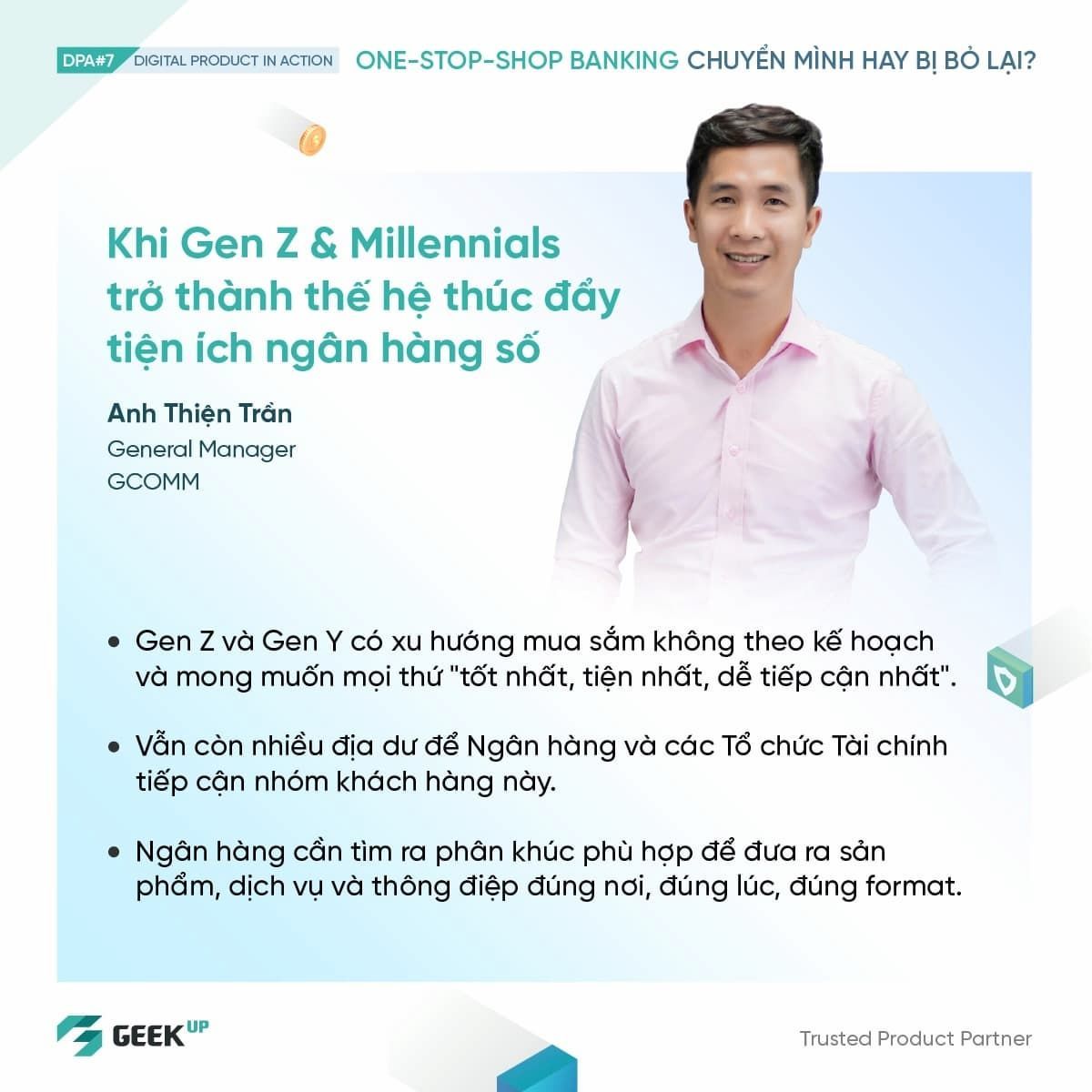 Despite such potential, experts also confirm that the problem of reaching Gen Z & Millennials is not easy. The challenge is that Banks need to segment customers into specific small groups (Micro Segmentation) to solve the problem of hyper-personalized experiences. Customers need to see that products and services are created just for them, not for everyone.
A specific example of customer segmentation using e-wallets can be divided as follows:

Segment 1 – Affluent: The group has a positive and dynamic attitude, very easy to access but the percentage of the total population is very low (less than 5%)
Segment 2 – Consideration: The group is influenced by rumors or suspicions. This segment accounts for a high percentage
Segment 3 – Follower: This group accounts for a high percentage and is easily influenced by segment 1
Segment 4 – Passive: This group is generally fine with the current situation and does not waver with new options
By segmenting customers, Banks will identify which customer groups need to be prioritized, thereby offering personalized services and products. However, in order to perform customer segmentation, departments need to identify and agree with each other the criteria to set up segments such as Digital Reach, Financial Maturity and Life Stage...

In summary, today's users are complex but also very simple. Banks need to find the priority customer segment to offer the right services, products and messages at the right time, in the right place and in the right form.
Steps to build a sustainable growth customer journey for the Banking - Finance industry
After having specific segments, the next problem to solve will be the construction of a specific customer journey.

Mr. Jack Nguyen - Regional Managing Director of SEA from Insider Vietnam said: "The Banking and Finance industry is quite unique. Sustainable growth in this industry means developing a new customer base and increasing the lifetime value of an existing customer base… However, most businesses focus too much on tools and techniques. We should start with the right approach and mindset. Be Strategic – Not Tactical."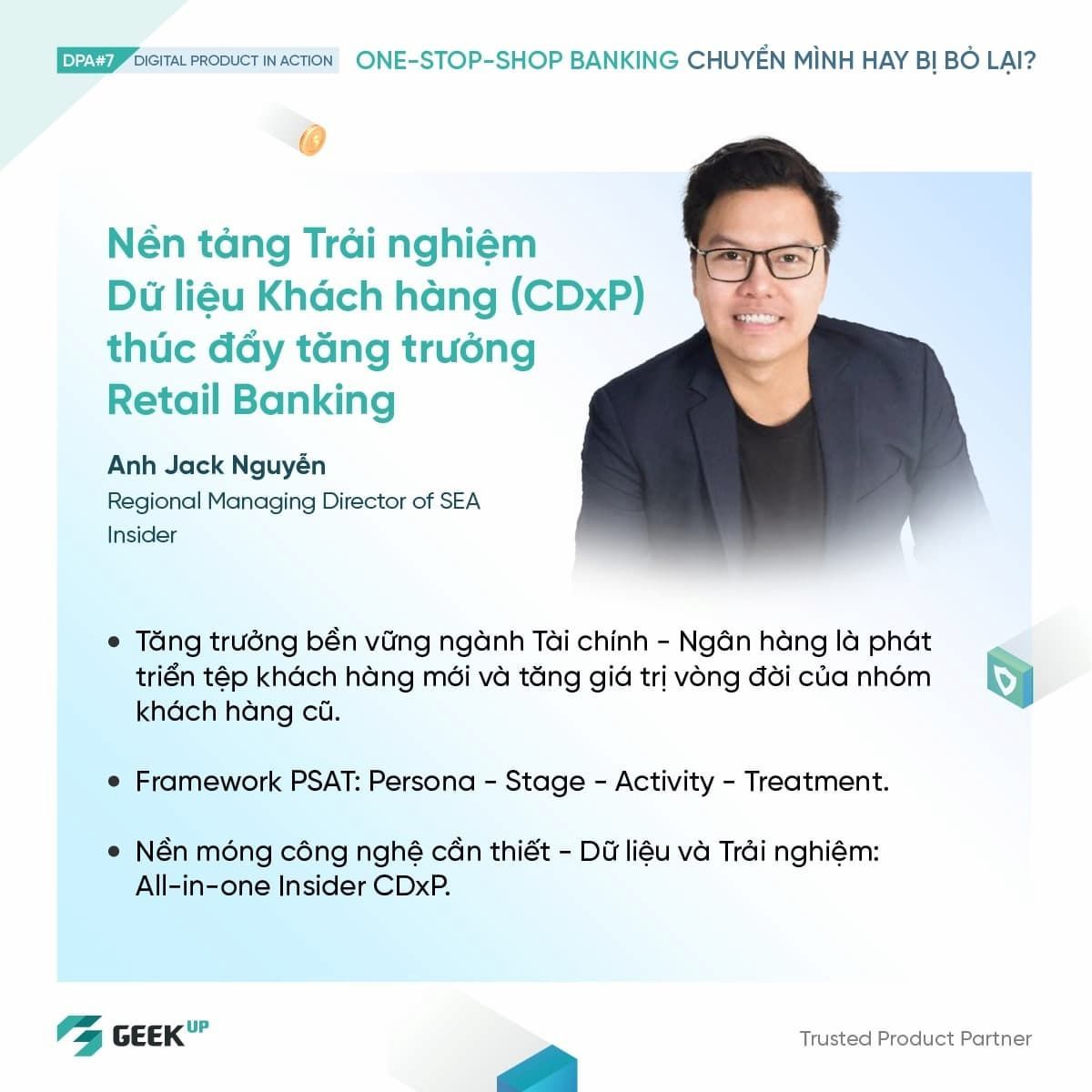 The customer journey is not only in the direction of accessing and using products and services, but it is also the journey of a whole human life. From this perspective, Banks can offer tailored and personalized products and services for each segment. This requires Banks to put users at the center of building products, services and Marketing & Sales activities to increase customer lifetime value, instead of offering services and finding ways to attract customers with that service.
At the event, Mr. Jack Nguyen also introduced to attendees the PSAT Framework (Person - Stage - Activities - Treatment) to help brands build a 1-1 "Human-to-Human" relationship with customers. Accordingly, Banks will also need the necessary technology foundation to collect data and "tailor" the optimal experience.

Build a super-personalized experience in a "one-stop-shop" super app
With huge experience in Banking sector, Mr. Nam Tran (James) - a representative from Vietnam's leading digital bank said that current customers do not compare application experiences with other banks. They compared their experiences with those from outside the industry.
Modern users are very demanding. They expect things to be easy so they do not have to think. If users find the experience is not what they expect from another application, they will also be disappointed. So, do not try to cram in features, but segment customers and offer experiences tailored to each segment.

With the specifics of the Banking industry, the journey to create a hyper-personalized digital experience will need to go through many transformations from: Mass Mobile First, Market Segmentation, from Personalization to Hyper-Personalization.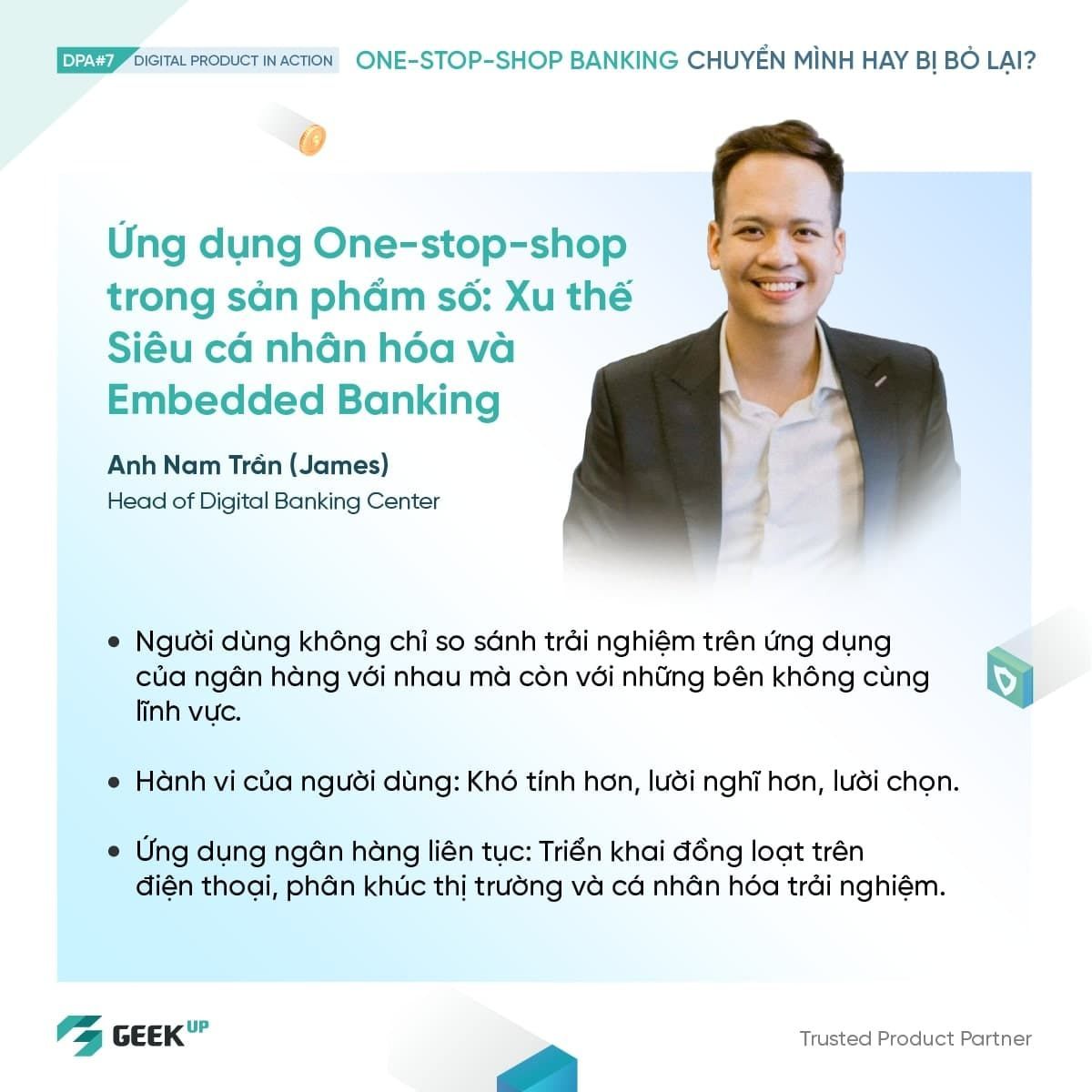 UX Writing – The art of using words to enhance the digital experience and engage users
The increasing demands of users also promote the enhancement of experience in digital product design. Not only through the interface, features or operations, the content on the application also affects the user's emotions and also needs to be hyper-personalized as if it were the content specifically for them.

With more than 6 years of expertise in User Interface and Experience Design, Ms. Van Hoang - Product Design Head at GEEK Up brought to the event the topic of UX Writing. According to Ms. Van, using inappropriate words can bring about an unpleasant experience for users, make them confused, not really understand the operation and in the worse case, they will leave the application.
The main task of UX Writing is to deliver concise, clear messages to optimize the customer experience. Beside, UX Writing also helps customers no longer feel confused when encountering problems in the process of visiting the website, using the application... for example, entering the wrong password, reporting 404 errors...
At GEEK Up, an UX Writing content that creates a positive impact (Impactful UX Writing) is a combination of 3 factors: Business Objectives, User Needs and Optimal Technology.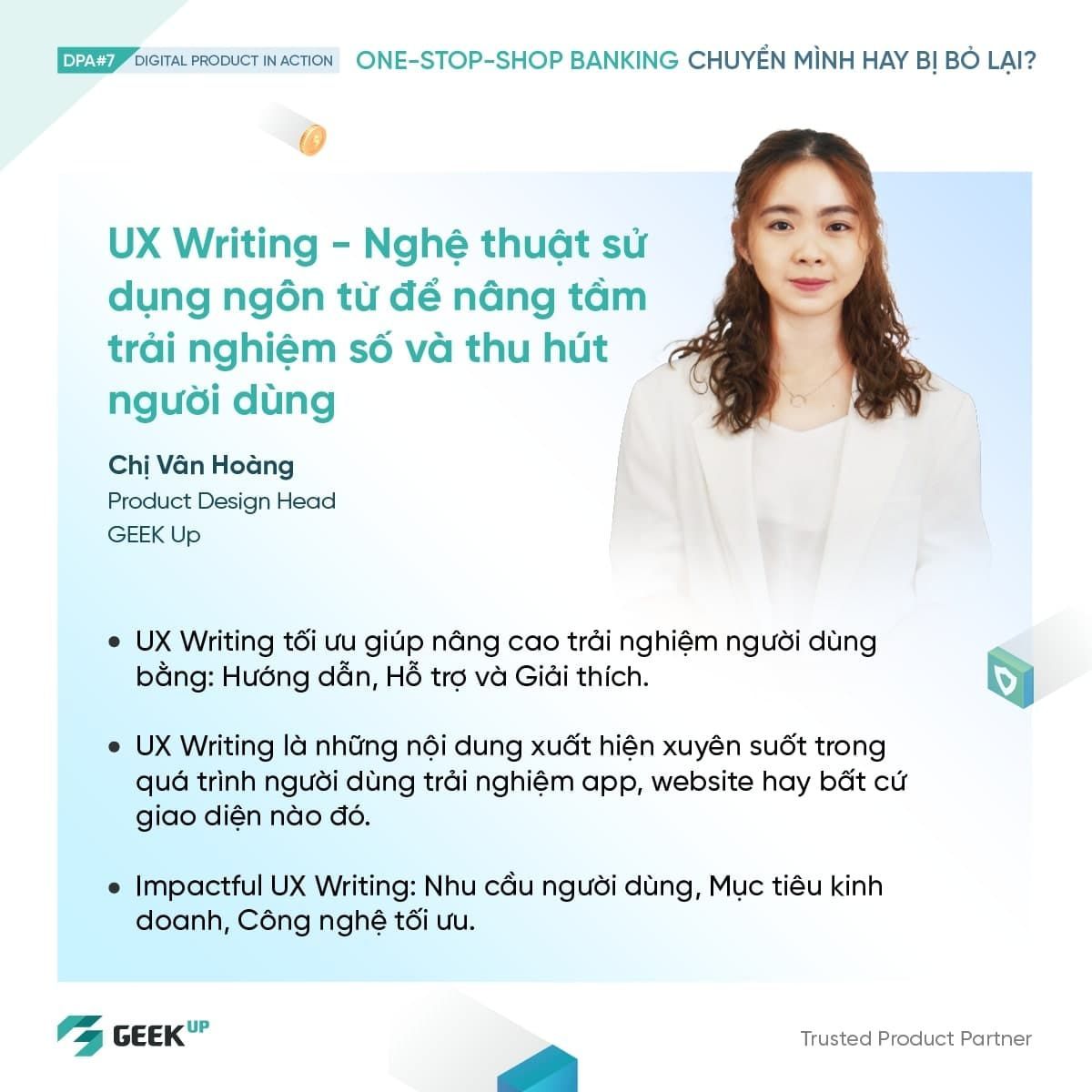 It can be seen that, in order to serve the modern young generation of customers, digital Banks cannot stay out of the "One-stop-shop" game and need to be "embedded" with other financial and shopping applications to create a new system that contains multi-utility eco-friendly with a hyper-personalized digital experience. To successfully transform, digital Banks will need to segment customers as well as put customers at the center of the process of developing services and products. Thereby outlining a long-term customer journey, based on on which design "measured" digital experiences at each touch point, not only through features and interfaces but also content on the application.
Source: brandsvietnam.com
Get latest updates from GEEK Up