The founder of GEEK Up does not give up his entrepreneurial journey after 4 failures
Four failure start-up projects after graduating from school cannot stop Mr. Le Hong Hai Nhan from continuing his startup journey with GEEK Up and building a team with nearly 100 member.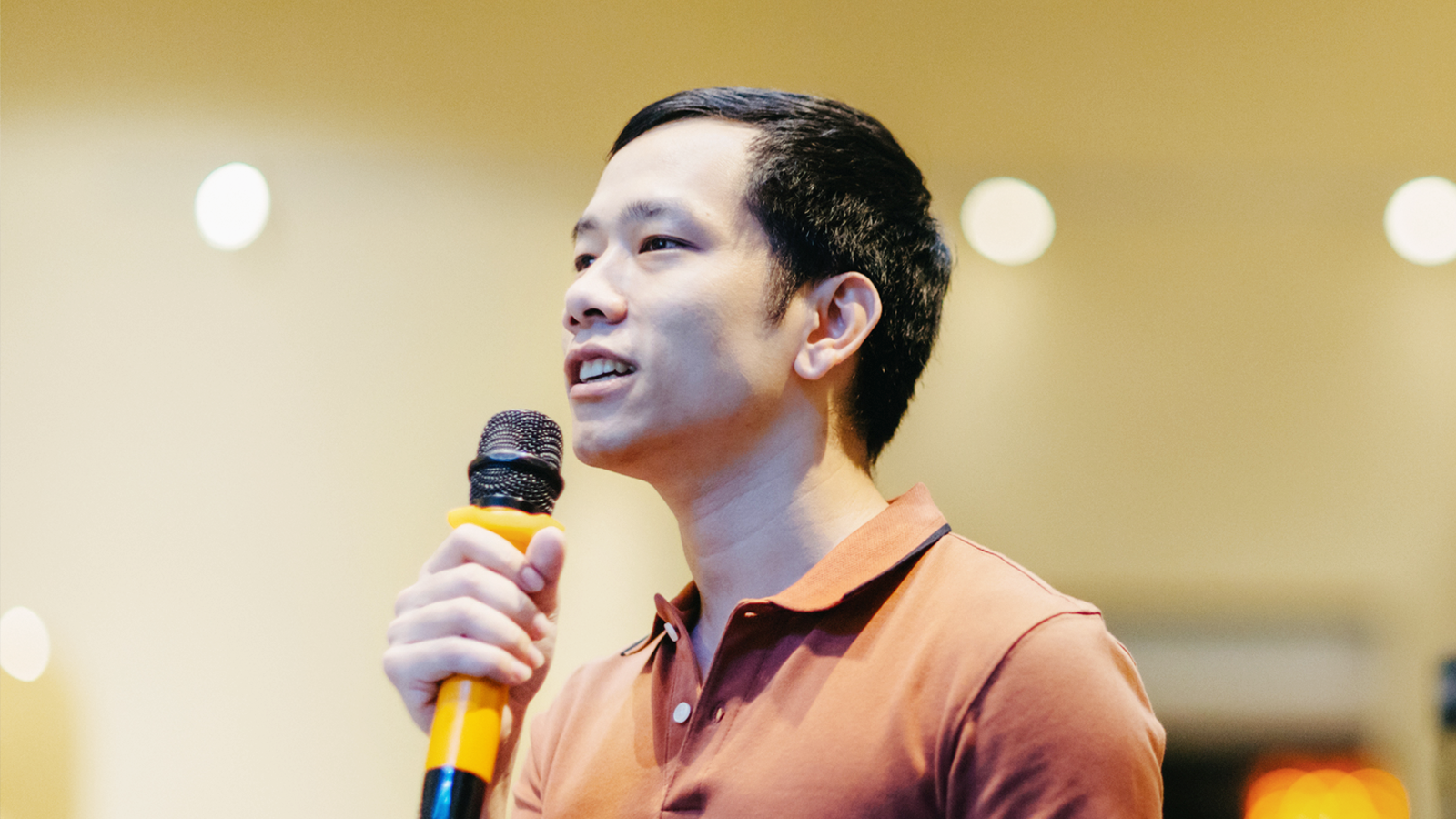 Mr. Le Hong Hai Nhan knew the concept of "start-up" in 2008, when he was still a 3rd year student, Faculty of Software Engineering, University of Information Technology, Vietnam National University, Ho Chi Minh City. After completing the 5-year engineering program early, Nhan entered an internship at a famous software company in Vietnam.
After 2 months of internship, he gradually realized that he was not suitable for the job and fell into a state of depression. Right at this time, Mr. Nhân started embarking on the entrepreneurial journey.

Before founding GEEK Up, how did Mr. Nhan fail with other startup projects?
When Nhan was practicing and getting bored, he happened to meet a brother who was the founder of a start-up. He enlightened Nhan that in addition to choose to work for a software company, Nhan also had another choice to work for a "tech start-up".
For the first time, sharing about start-ups, tech start-ups and passions, he was immediately engaged. It was the first start-up Nhan joined, as a main member, in the first 5-member team. This start-up provided an online payment platform and solution.
Now we have Viettel Pay, MoMo, ZaloPay…, but at that time (2008 - 2009), this playground was completely new. As one of the first members, Nhan can do anything: BI system (business intelligence), payment gateway, top-up system and selling scratch cards… Our team launched the system but failed in business development, that is why we failed after more than 1 year of establishment.

The second start-up Nhan joined was a startup about distributing toys for children. This was a very humane and enthusiastic idea of ​​the founder.

Children form their personality and intelligence from a very early age. Having the right toys will greatly help the growth of young children, and vice versa, playing with toxic toys will create a lot of consequences later.

Mr. Nhan was one of the first 5 members of the start-up always, in charge of technology. Just say in charge of technology, but there was only Mr. Nhan and at that time, technology was a sales website. He joined this start-up for about 6 months, then stopped.

At that time, technology was not the company's biggest priority, but Nhan could not do anything other than technology. The lesson learned is that once you join a startup, you must be ready to do everything, if you do not do less, do more, otherwise it will be difficult to create value and go far. Although only attached for a short time, Mr. Nhan has also had many interesting experiences. The brothers are still very attached to each other and still stay connected to this day.

The third start-up initiated by Mr. Nhan as a founder was called LinkTo. This was a B2B2C model e-commerce platform, targeting micro businesses and individual businesses.

The mission was inspired by Alibaba, helping to close the technology gap for business people with low technology access. LinkTo's model was quite similar to Shopify and Haravan.

LinkTo had not been released yet, only 6 months pregnant when Mr. Nhan "closed". The reason was that Nhan himself realized he had no chance of success after talking with a brother working at Viettel, he was in charge of a similar project that Viettel was trying to implement.

So Mr. Nhan understood, the market was empty, no one had done it, it did not mean that he would be able to do it and be successful. If the team did not have the ability to make a difference, there was no chance. So Nhan decided to stop early.

The fourth start-up was Niche Café, a working cafe for young people. This was the start-up that Mr. Nhan invested the most compared to the previous 3 start-ups. Spend a lot of time, effort, money and affection.

At that time, Nhan (the founder) and the friends in the founding team were friends and brothers before. Everyone trusted and agreed with each other. Perhaps that was why Niche Café soon achieved initial success.

In 2011, Niche Café was almost the first coffee shop serving the needs of working in Ho Chi Minh City with meeting rooms for rent, space for events, space for group study, individual study... Niche Café was often crowded, and had become a regular meeting place for many organizations, clubs and startup communities: Webtretho, Barcamp Saigon, AIESEC...

However, after 1 year, the team came to an impasse because maintaining consumed almost all of the team's energy, and how to develop further was very unclear. In the end, the team had to sadly stop.

The lesson learned was that a start-up to have a chance to succeed must be good enough in all aspects to survive and must be excellent in one area to make a difference.
Read more: Lê Hồng Hải Nhân, nhà sáng lập GEEK Up: Khởi nghiệp vì tinh thần khởi nghiệp
Why did he fail so many times but Nhan continued to start a startup with GEEK Up?
After each such failure, Mr. Nhan was hurt and painful. Promise himself that was enough, did not start a business anymore. But it seemed that Nhan promised so because he did not understand himself. A short time later, after his heart healed a little, his enthusiasm rose again and Nhan started his business again.

Looking back now, Nhan thought that my motivation to start a business was not because of pursuing the call of a noble mission like saving or changing the world, or because I wanted to become a successful, rich, famous person or to prove oneself as master, to decide, to be free...

His entrepreneurial motivation came from expecting a job that he could dedicate himself. Nhan is always curious about life, always wanted to understand more about himself and the world.

Living and working to the fullest, fighting for something helped Mr. Nhan to satisfy his curiosity and felt about life in a lively and interesting way.
So he started a business because of the entrepreneurial spirit, not the startup model. As GEEK Up now, has passed 8 years with nearly 100 members, although the model has been relatively stable and has passed the "start-up" stage, but the entrepreneurial spirit is evident in each member.

Probably because of that, the start-ups before Mr. Nhan had only been with us for less than 1 year, while GEEK Up has been with us until the 8th year. More than 16,000 hours of work, we still continue working with effort and passion.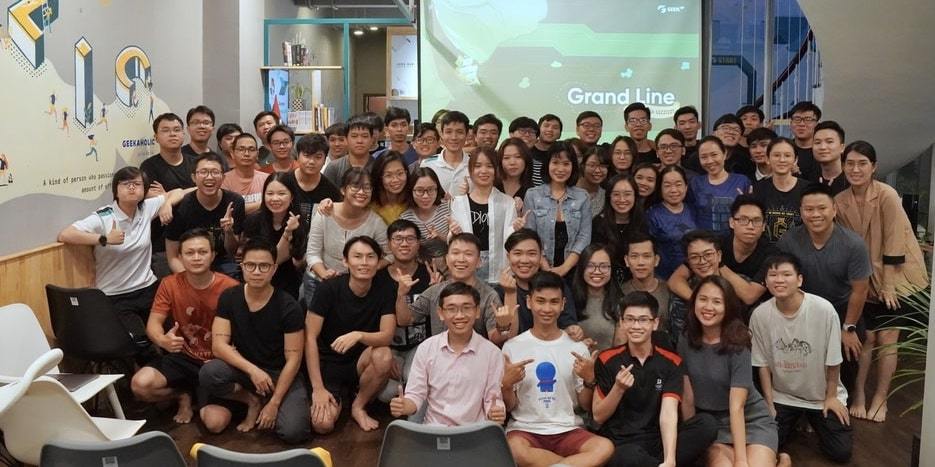 How do those failures help Nhan in the process of establishing and developing GEEK Up?
Firstly, Mr. Nhan has learned a lot of lessons through the start-ups that he joined. Secondly, Nhan has experience, so he can understand start-ups, helping him work better with GEEK Up's customers who are start-ups.

Regarding the first point, Nhan thinks, knowledge can be received through schools, books, and the Internet, but wisdom can only be absorbed from real life, from failure, from success...
On the second point, start-ups and businesses (Corporate) are very different in terms of operations, decision-making, different cultures, and different priorities. Because of his experience in starting a business, Nhan can understand that difference, thereby knowing how GEEK Up can effectively cooperate with start-ups.
Who are the founding team, the core of GEEK Up?
The founding team of GEEK Up are all "product" people, all have in building digital products in different companies. At that time, what everyone lacked was an environment where everyone could come together to show their passion and effort in building and developing digital products.
We all know each other, have played together before, so everyone had mutual trust and respect. This point is very important, because at the beginning of the establishment of the company there were many difficulties and contradictions that everyone had to overcome together.
Outside of work, the founding team of GEEK Up has 4 things in common: everyone is curious, self-learning. Everyone loves adventure, likes One Piece, likes Game of Thrones. Everyone loves to learn and share different knowledge in life. And everyone loves to eat well, can spend a lot of time and effort to eat well.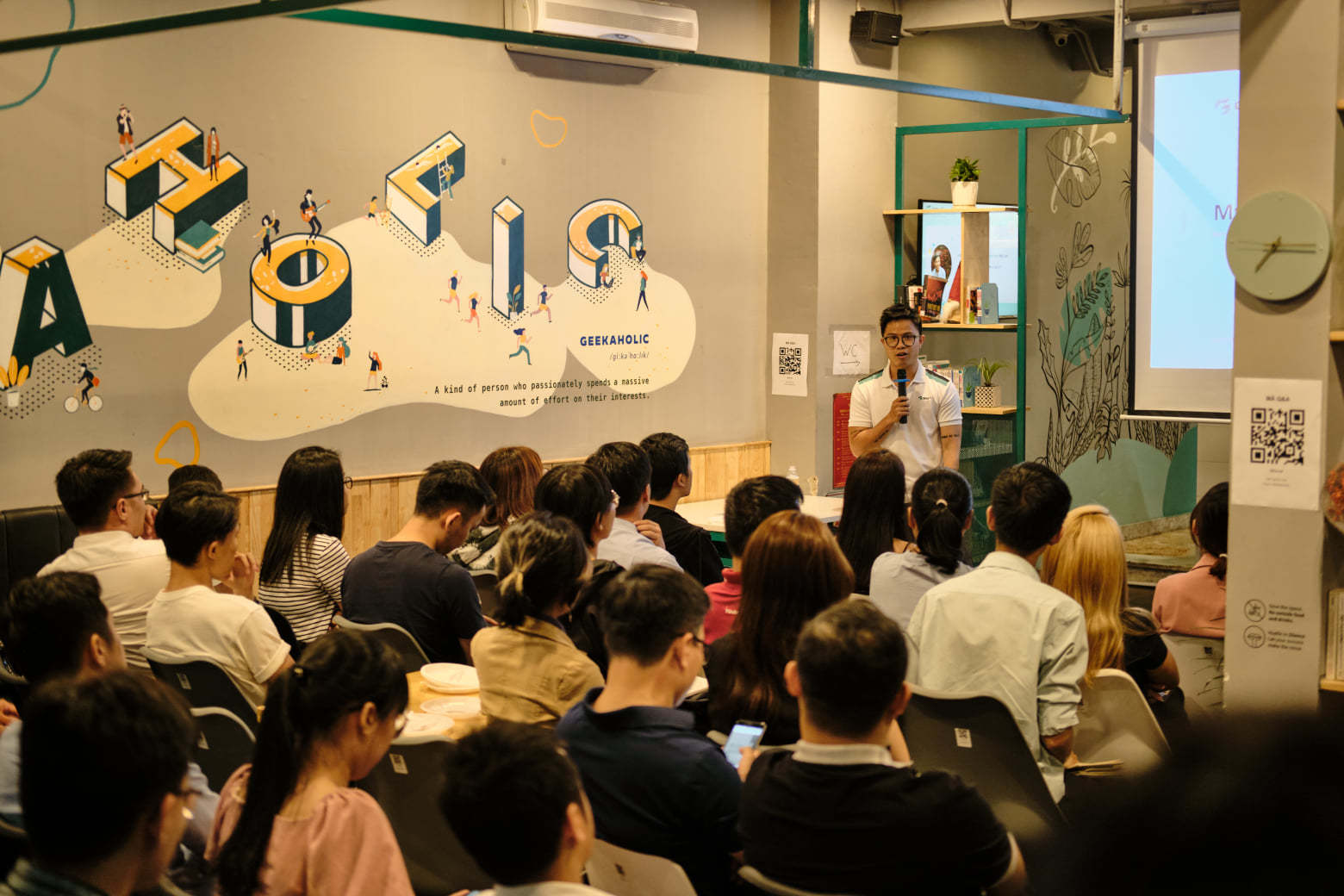 How do you build such a cohesive team?
Up to now, GEEK Up still pursues the mission that has been pursued since day one to bring values to businesses and users through digital products that create breakthrough changes for businesses and bring values for users (Impactful Product).

Members choose GEEK Up because they want to share the mission and values ​​that GEEK Up pursues instead of money, fame or power.
In addition, GEEK Up is organized according to the Flat model. It means that in a group where no one is the boss, everyone will collaborate on the basis of respecting and promoting each other's strengths.
This gives members of the organization the opportunity to maximize their potential while still being able to express themselves honestly. Members of GEEK Up form healthy relationships, not the kind of face-to-face but discontent with each other.
In terms of culture, from the very beginning, the first members of GEEK Up were very aware that in order to go far together, everyone had to be compatible to a certain extent, not only at work but also out of job. Everyone has a different personality, different background, different viewpoints of life, so everyone has to accept the adjustment of their behavior a bit.
A certain behavior that the team finds interesting, will jointly recognize and encourage. Any behavior that the team finds not cool will remind each other to gradually reduce. Each member has a stake in this promotion and restriction.
This consensus and perseverance have created a vibrant, colorful culture in which people bond and interact a lot.
Source: baodautu.vn

Get latest updates from GEEK Up