Re-live GEEK Up DPA10: Redesign BFSI Operations – Optimize operations, increase profits
On November 24, 2022, GEEK Up held a workshop DPA10 with the theme "Redesign BFSI Operations: Optimize operations, increase profits" to discuss what are digital solution options to help organizations Finance - The bank optimizes operating costs and profits in the present and the future.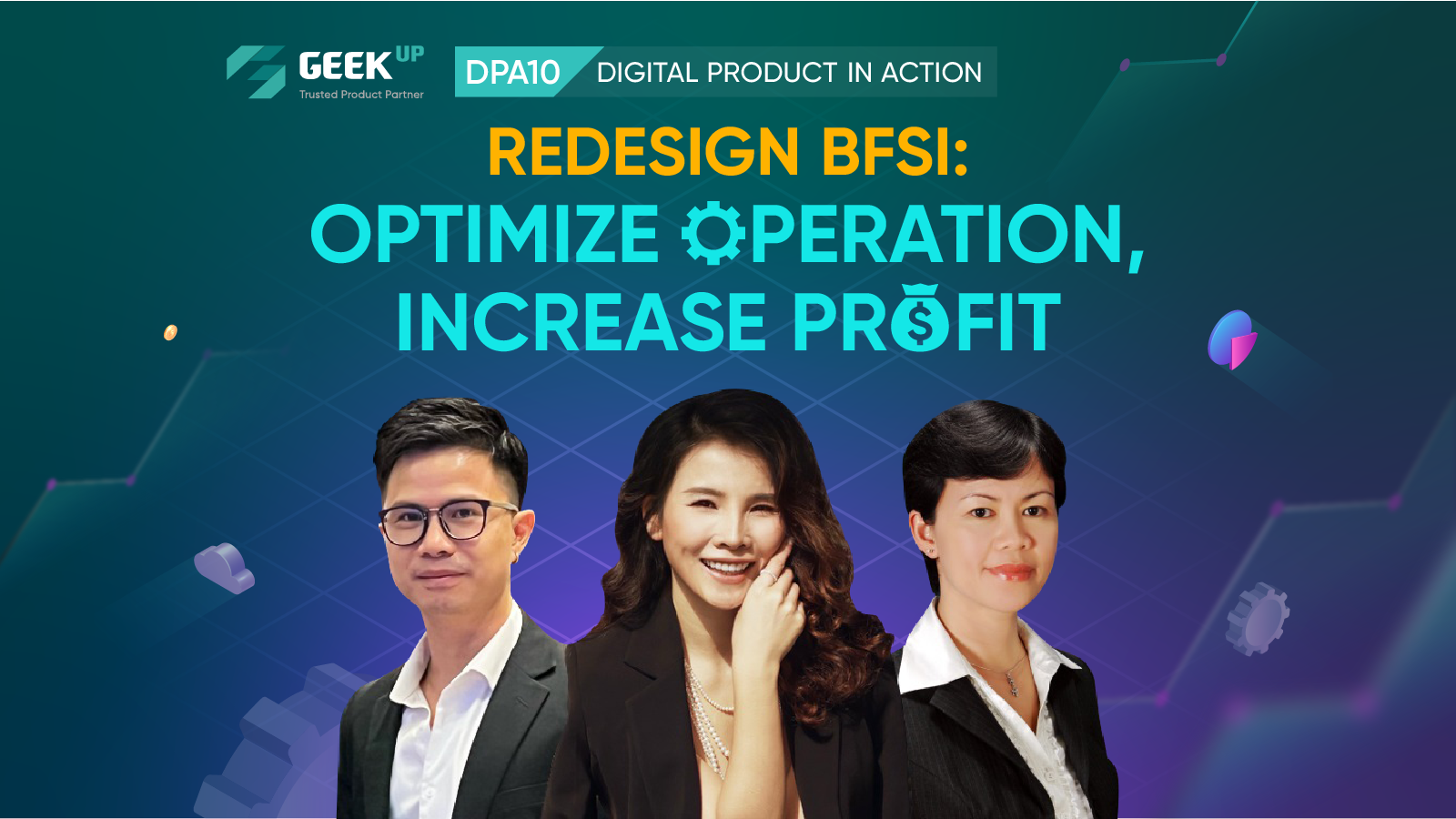 Digital Product in Action (DPA) is a series of GEEK Up workshops designed specifically for senior managers in businesses who are interested in building digital products and business growth through digital transformation to open up space for sharing and open discussion among business managers, Digital Product experts and the community passionate about building digital products in general. The series of events revolves around the topic of the right approach in the process of creating digital products, accompanied by sharing of real case-study.
DPA10 event is divided into three parts with the companionship of 3 experts:
Part 1: Opportunities and challenges when optimizing the operation of BFSI (Banking, financial services, and insurance) businesses with digital products, shared by Ms. Anh Nguyen (Banking Advisor)
Part 2: Cut operating costs, and increase customer experience with Embedded Finance solutions, presented by Ms. Amy Le (Head of BD & Partnerships at Credify).
Part 3: Developing digital products to optimize BFSI performance with Mr. Hoang Nguyen (Head of Product Design at GEEK Up).
Source: GEEK Up
Part 1: Optimizing the operation of BFSI businesses with digital products
The workshop started with a presentation by Ms. Anh Nguyen, a Banking Advisor with more than 30 years of experience, on the problem of optimizing costs on profits of Finance - Banking (CIR) businesses during and after the pandemic.
Accordingly, BFSI businesses need digital transformation for two significant reasons. First, traditionally operating the system is too expensive. Second, digital transformation has been an inevitable Finance - Banking industry trend.
Cost and industry-wide trends are the two biggest reasons BFSI businesses are forced to transform digitally.
Source: GEEK Up
Ms. Anh added that a fairly common situation in BFSI enterprises is that the working process could be more efficient, with many redundant and repetitive operations. This process affects the relationship with customers, who have to spend more budget to pay for the business. In addition, financial and banking institutions should be focusing more time and human resources on the accounting process.
Beside that, many financial and banking institutions are spending much budget to improve and upgrade the management software system because the current system uses technology that is gradually becoming obsolete over time, the degree of low compatibility. In addition, another problem is that many BFSI enterprises need to focus on building customer data systems, leading to insufficient data to analyze and evaluate future business trends.
Case-study: Creating an online savings account is much faster and more straightforward than the traditional method.
Source: GEEK Up
For the general industry trend, digital transformation is inevitable. Therefore, banking & financial institutions must transform digitally to maintain and develop market share. Therefore, businesses must find solutions to optimize employee productivity, improve customer experience, and build a complete and transparent data system.
Converting to a customer-centric model is the core when optimizing the operating system for BFSI businesses.
Source: GEEK Up
How to optimize the operating system for BFSI businesses? Ms. Anh shared that banking & financial institutions must transform into a customer-centric model (switch to serve customers' need instead of selling existing products and services)
To move to this model, businesses should note the following factors:
Restructuring the human resource system: Enterprises should focus on retaining experienced and highly specialized personnel with a long-term commitment to the organization.
Prioritize mass market: Most financial and banking institutions now focus on the most accessible customer groups, including individuals, small and medium enterprises.
Determining the scope of conversion: Ms. Anh believes it is advisable to start integrating and increasing the digital experience for customers from simple to complex. After a transition period, businesses should probe customer preferences based on available data. From there, continue researching to offer the best products and services to build a loyal customer file.
Part 2: Cut operating costs, and increase customer experience with Embedded Finance solutions

The next phase is the sharing of Ms. Amy Le (Head of BD & Partnerships at Credify) on Embedded Finance solutions that help cut costs while improving customer experience.
Source: GEEK Up
Ms. Amy explained that BFSI businesses operating in the traditional way are lacking in human resources, costs, and modern technology to attract new customers. Meanwhile, the Embedded Finance solution will bring significant benefits as follows:
Optimize operating costs: Banking & financial institutions quickly access many different markets with just one integration. More specifically, it integrates payment or pre-purchase and post-paid features into applications and websites of e-commerce platforms, retail systems, etc. Thus, Financial - Banking institutions can appear in the right place when customers need them.
Increase conversion rate: Embedded Finance solutions will make it easy for businesses to use available customer data for pre-filtering, thereby making the most appropriate personalized recommendations to create motivational shopping for customers.
Minimizing Customer Acquisition Costs: Embedded Finance solutions enable businesses to precisely reach their target customers and, at the same time, make the customer due diligence process go more smoothly.
Ms. Amy shared that with the Embedded Finance solution, the appraisal process will be convenient and reduce risks thanks to eKYC technology (online technology to verify documents, real-time biometrics) and Phone metadata for pre-qualification (technology that analyzes customer credit through voice, regardless of the language or content being exchanged).
Case-study: Credify supports OCB Bank in integrating Buy Now, Pay Later with an Embedded Finance solution.
Source: GEEK Up
Part 3: Developing digital products to optimize operational efficiency of BFSI businesses
DPA10 ended with the presentation of Mr. Hoang Nguyen, Head of Product Design at GEEK Up, with the process of Building and developing digital products for BFSI businesses.
From the perspective of an enterprise that is in the stage of laying the foundation of the digital transformation process, Mr. Hoang has listed the advantages and disadvantages when choosing an internal team (In-house team), an Outsourcing Provider, or a Product Partner as follows:
Source: GEEK Up
In general, according to Mr. Hoang's analysis, the most suitable choice depends on the specificity, size, and strategy of the business in each stage.
- Big corporations can only buy a technology company's services if they spend little time building an internal team (In-house team).
- On the contrary, an Outsourcing Provider is the most appropriate choice for small-scale new startups.
- For medium-sized businesses looking for optimal solutions for digital products to develop business activities at a reasonable cost, finding a partner to build digital products (Product Partner) would be the optimal choice.
To conclude his presentation, Mr. Hoang summarized 3 critical lessons that BFSI businesses in the process of digital transformation should note:
- Firstly, members of the digital transformation team need to have a good mindset about digital products.
- Secondly, the human resources team needs to understand the requirements, processes, and operating methods to understand the business problem, technological limitations and find the right solution.
- Finally, it is essential to implement plans carefully, have a monitoring system, and update status automatically to facilitate tracking and resolving arising errors quickly and effectively.
Get latest updates from GEEK Up