Re-live GEEK Up DPA 9: Omni-channel banking – Create business growth by optimizing Customer Experience
On August 25, 2022, GEEK Up held DPA9 (Digital Product in Action) with the theme "Omni-channel banking - Creating momentum with breakthrough CX," focusing on opportunities and ways to Optimize Customer Experience when applying omnichannel into digital banking.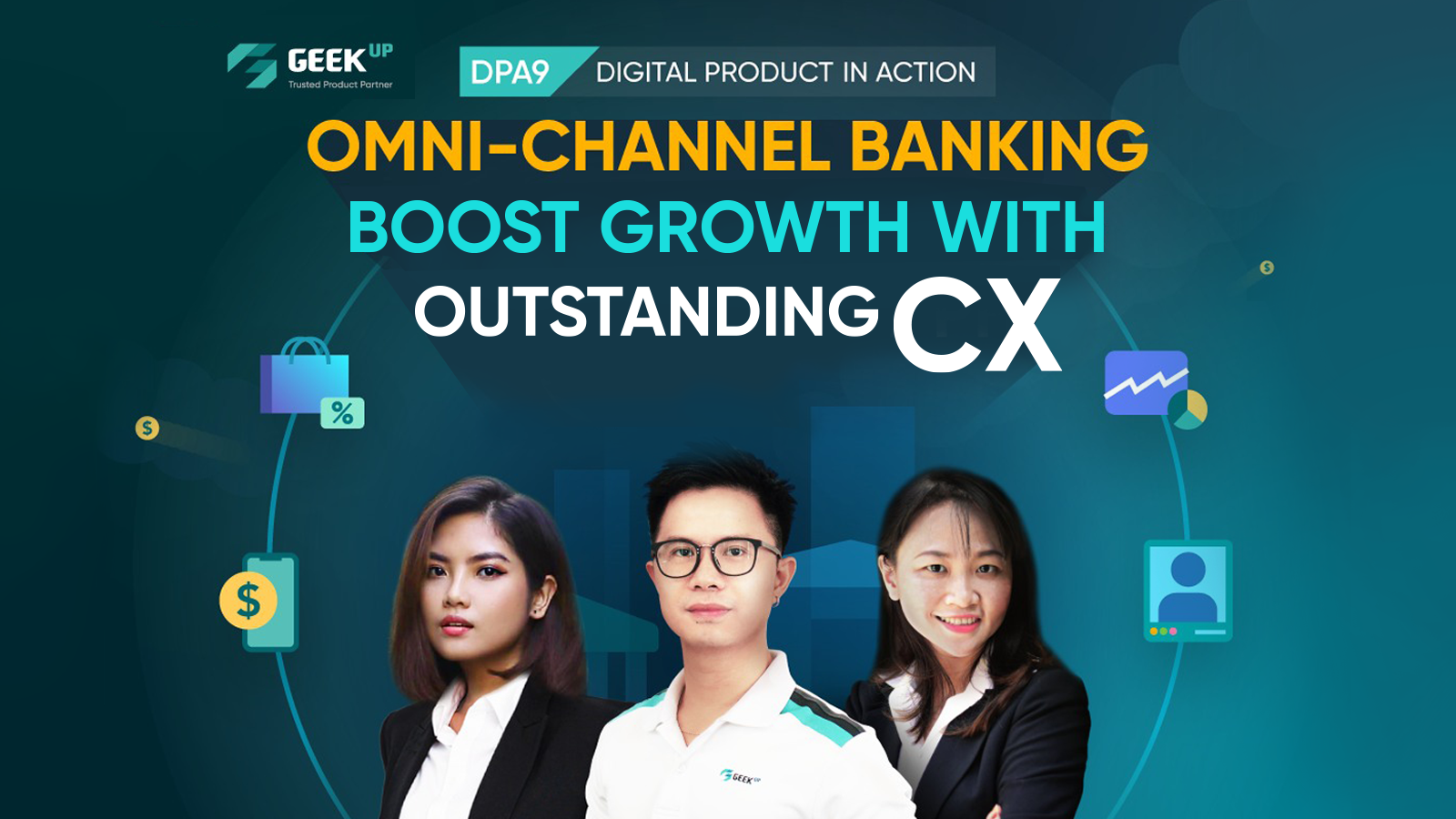 The event revolved around three part:
Part 1:
Omni-channel in digital banking – Opportunities and challenges shared by Ms. Diep Doan (Deputy Head of Innovation & Value Proposition at HDBank).


Part 2:
Optimizing CX – "the complete piece" of Omni-channel digital banking shared by Ms. Vicky Cao (Senior Growth Consultant at MoEngage).


Part 3:
Design a seamless experience with IPD (Insightful Product Development) Framework in the banking industry shared by Mr. Hoang Nguyen (Head of Product Design at GEEK Up).
Part 1: Omni-channel in digital banking – Opportunities and challenges
The event opened with a presentation by Ms. Diep Doan (Deputy Head of Innovation & Value Proposition, HDBank) about the Omni-channel trend in Vietnam and the opportunities and challenges when banks transform to this model. In general, the market of digital users in the Finance
Banking industry in Vietnam is growing quite well. According to McKinsey's report on Digital Banking 2021, up to 82% of Vietnamese users use digital banking, and 73% of customers use banking services with multiple channels, from offline kiosk banking, to online, such as mobile, tablet, and laptop...
Ms. Diep said that the banking industry also gradually transformed from operating Multichannel to Omni-channel. She emphasized that Omni-channel is not only focused on technology development, but this model focuses on building customer experience across all touchpoints in channels to remove "breakpoints" between channels. From here, banks can create a seamless experience based on data consolidation.
So what will banks change? According to Ms. Diep, the Omni-channel trend will require banks to switch from operating omnichannel under the Business Centric model, "selling what they have" - by product to Customer Centric, "selling what customers need." Specifically, banks need to understand customer needs, "sell" what customers need, and predict customer needs and behaviors. And to do that, banks need to know how to leverage the data collected at touchpoints to analyze demand and predict behavior.
Next, Ms. Diep reviewed three significant challenges that a bank will face when implementing Omni-channel:
- In information technology systems, people need more flexibility to respond to fast-changing requirements and scope.
- Information about customer interactions is recorded on the system individually at each channel.
- The ability to exploit big data is limited, making the customer experience incomplete.
Corresponding to 3 challenges, Ms. Diep also proposed three solutions:
- Adapting to the "change" model: Building a culture and operating the business to adapt to the rapid changes of the market before new opportunities.
- Build an interactive system between channels: Promote the ability to integrate sales channels and operational processes.
- Data development and mining optimization: Focusing on collecting data at every touchpoint, promoting building and testing data models, application and improving the model over time.
Part 2: Optimizing CX – "The complete piece" for Omni-channel digital banking
Within the framework of the event, Ms. Vicky Cao's shares revolved around MoEngage and CIMB's best case study and CX enhancement solutions for the banking industry. Usually, the customer life cycle will go through stages like Acquisition, Onboarding, and Retention.
Corresponding to each step, customers will have different needs and expectations. Therefore, banks need to customize the way of communication to suit each audience at each stage. For example, a new customer will need fast and smooth support. As for existing customers, they need to be understood and listened to. Ms. Vicky also noted that at any stage, banks require a strategy to "retain" customers who tend to give up.
Ms. Vicky also mentioned optimizing CX through automated and personalized marketing activities. Today, AI and Machine Learning significantly contribute to sending messages to the right people on the channels users interact with. Analyzing user demographic and behavioral data helps identify customer segments and implement more effective campaigns.
For example, CIMB has partnered with MoEngage to promote Digital Banking through email marketing and website engagement. To achieve the goal of MoEngage, sent more than 25 million emails per month to new customers, cross-sell personalized products/services based on user groups, and stimulate interaction with customer groups. Operate for a long time (dormant customer). Besides, through personalization of content and email delivery time... MoEngage helps increase user interaction with emails from CIMB by 105%, and the rate of filling out forms on the website also increases four times.
Part 3: Design a seamless experience for digital products with the IPD (Insightful Product Development) Framework
At the end of the event was a presentation by an expert from GEEK Up, Mr. Hoang Nguyen - Head of Product Design with the content revolving around CX & UX, the IPD (Insightful Product Development) Framework model - a model that is very compatible with the philosophy developing impactful products.
It can be understood that CX is the entire interaction of a customer with a company, services, and products in both online and offline environments, with a long-term nature. Meanwhile, the concept of UX was born, which is implicitly understood as the user's experience in the online environment, which is of a more short-term nature.
After the pandemic, Vietnamese users have gradually become accustomed to transacting in the online environment, which makes UX almost a factor that can significantly affect CX, and the success of a Finance - Banking organization. Accordingly, Mr. Hoang reviewed three stages of the digital transformation of a bank:
1.
Digitalised & Connected:
Applying technology to standardize banking operations. Specifically, the bank will focus on replacing offline with online operations.
2. Integrated & Transformed:
Applying technology to optimize business operations and enhance service experience for customers.


3. Reinvented:
Relying on information and data collected to develop new services and products to bring new value to customers.
Then the problem of optimizing customer experience will need attention from phase 2, Integrated & Transformed. Today, with the Omni-channel operation, the organization puts the customer at the center, helping them transact and interact more broadly with the bank through multichannel. Businesses also strive to anticipate the needs and wants of customers through analytics and systems of engagement.
Next, Mr. Hoang introduced the IPD (Insightful Product Development) Framework model. This model allows Team Business and Team Product to collaborate more smoothly when building impactful digital products. The IPD (Insightful Product Development) Framework model consists of 6 steps:
1. Business Goals Capture: Provide business goals and strategies.
2. Product Strategy: Define product strategy while balancing with business goals.
3. Product Concept: Give product ideas.
4. Product Design: Design the experience that can be derived from the product.
5. Minimum Viable Product: Offer a simple product plan to bring to market and receive feedback from users promptly.
6. Impactful Product: The result is a product that meets the business goals, user experience and is technologically feasible.
To conclude his presentation, Mr. Hoang summarized three lessons on user insight and three lessons in user experience design when developing a digital product with three significant ones of user insight:
1. User insight is not customer insight: users are only online customers, not including offline customers.
2. User Insight is not user information: Insight must be analyzed based on many aspects. It cannot be based solely on user information. In addition, the insight also needs to be summarized with the relevant action to respond/resolve that insight.
3. Take advantage of all data sources to get the most out of user insights.
Three lessons on user experience design, corresponding to 3 product stages:
1. The Early Product: Collect user insights from a business perspective. In addition, brands can conduct short-term research to determine the level of trustworthiness.
2. The Prototype Product: Collect user insights of potential users through surveys and interviews about their experience with the product.
3. The Impactful Product: Gather insights from real users. These insights require much time to "dig" and analyze.
Get latest updates from GEEK Up