Digital Product #1: the need of "maturity" in technology and functional areas for successful digital transformation
"Businesses should consider context and concentration before proceeding with digitization. The context here is to clearly define the maturity of the enterprise's ability to use technology (Digital Maturity). Concentration refers to which functional area (Business Area) the business wants to focus on transforming.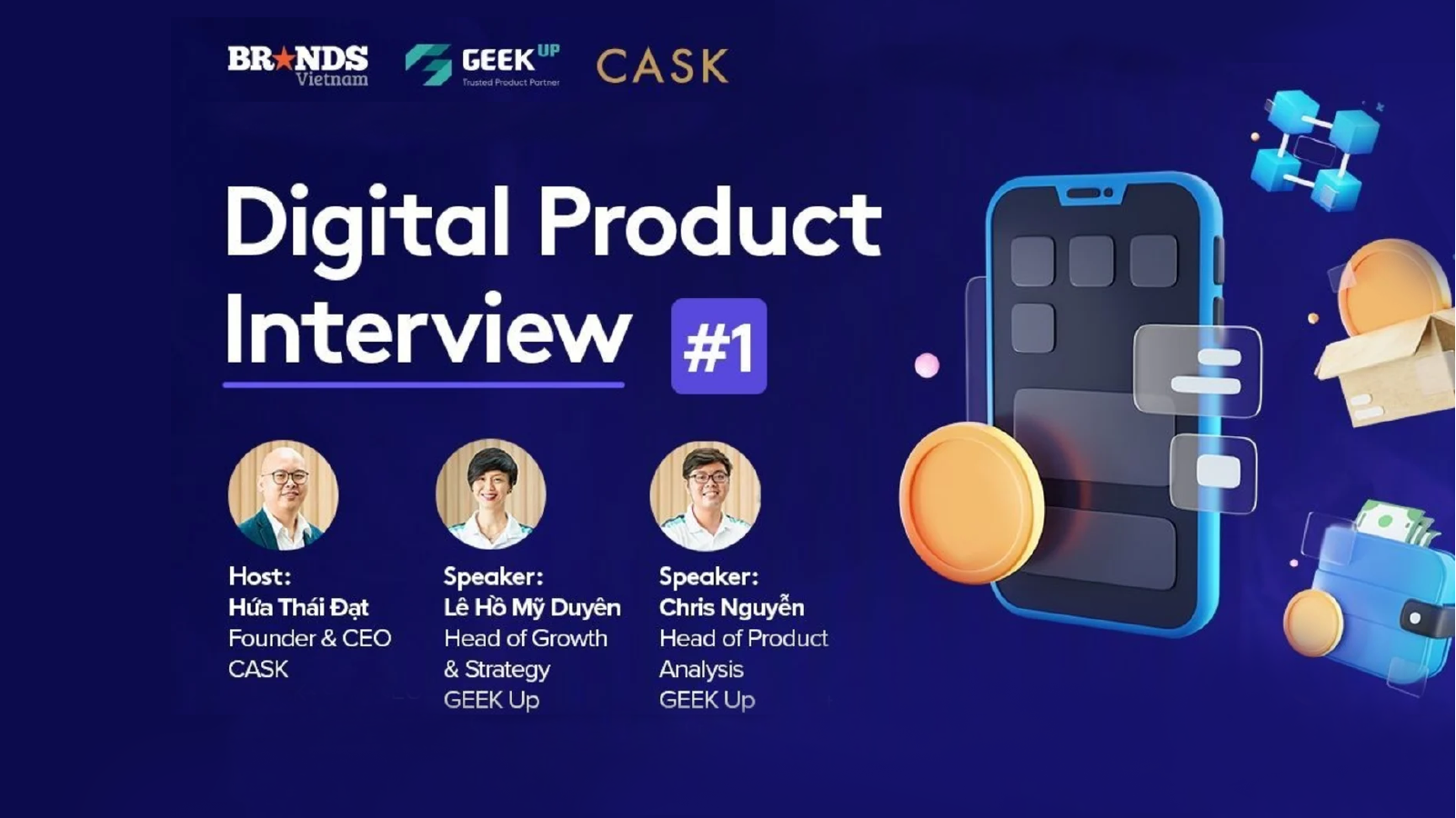 This is the sharing of 2 experts from GEEK Up, Mrs. Le Ho My Duyen - Head of Growth & Strategy, and Mr. Chris Nguyen - Head of Product Analysis, in the first issue of the Digital Product series.
Digital Product is a series made by Brands Vietnam and GEEK Up, under the leadership of Mr. Hua Thai Dat - Founder & CEO of CASK. This is a series of content that delves into the role and way of developing digital products, in order to bring the topic of Product Development closer to audiences who are interested in Digital Transformation & Business Innovation.
Mr. Đạt: Firstly, would you briefly introduce the GEEK Up business model?

Mrs. Duyên: GEEK Up is an enterprise specializing in building digital products such as apps, websites, digital applications… The concept of a company making digital products is familiar in many countries with a developed technology industry, but it is still quite new in Vietnam.
Normally, software businesses are divided into 2 groups. One is an outsourcing unit that undertakes programming based on specific customer requirements. In recent years, the young generation of Vietnamese programmers wants to participate more deeply in the process of building digital products. So they care more about the value that the product brings to users and businesses. Since then, businesses with new expertise in making digital products have been born. Businesses in this group will build digital products based on the insights of businesses, users, and combine with the most appropriate and optimal technology application. GEEK Up is an enterprise in this second group.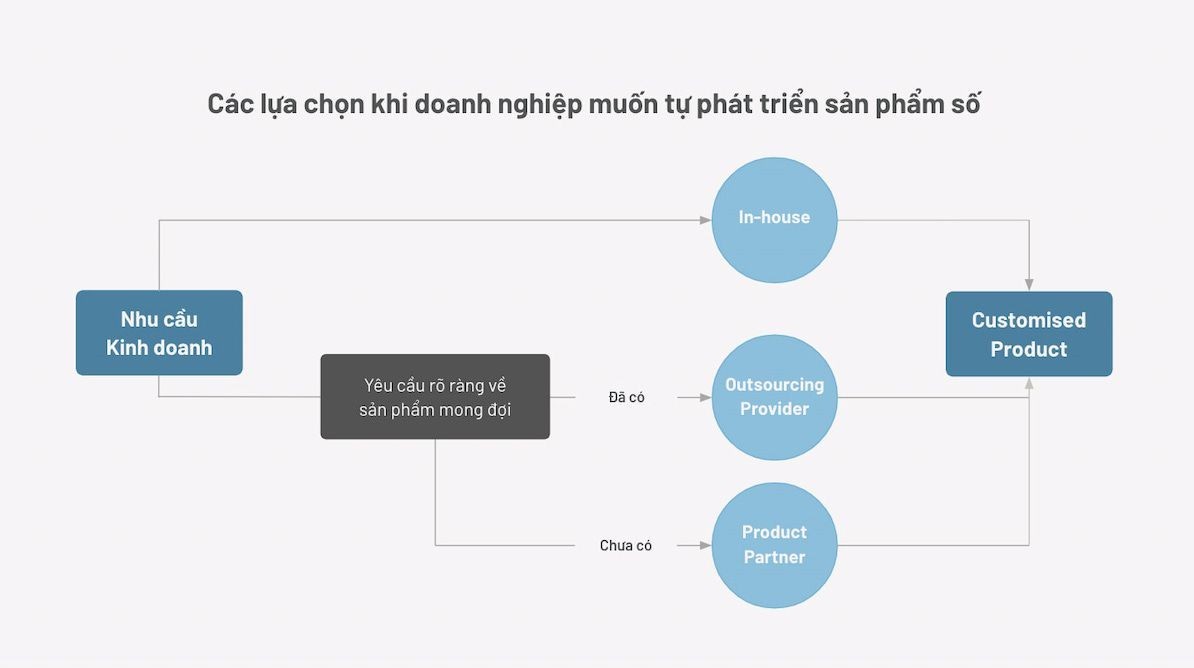 Mr. Đạt: In your opinion, what factors should businesses consider before implementing digital transformation?
Mr. Triết: In my opinion, businesses need to consider two main factors, namely context and concentration level, before digital transformation or digital product application in any area of ​​the business (Business Area). In terms of context, specifically, enterprises need to assess the maturity of their technology use capacity (Digital Maturity). Concentration refers to whether the business wants to focus on transforming a certain department or process so that it can solve problems or seize new opportunities.
Mrs. Duyên: I think that beside considering the above two factors, businesses also need to analyze competitors and market context. Analysis helps businesses to determine the values that create their competitive advantages over competitors. At this point, businesses will easily determine which areas need to be digitally transformed to create the above value.
Mr. Đạt: Can you share more about the Digital Maturity scale?

Mr. Triết: Currently, there are many scales to help businesses determine the level of Digital Maturity. In general, Digital Maturity is associated with the Digital Transformation process of businesses. In my opinion, this process can be divided into 3 main stages: Digitalised & Connected, Integrated & Transformed and Reinvented.
In the first stage of Digitalised & Connected, businesses start to apply technology into business activities to make management easier. The role of digital products in phase 1 is to replace people to perform simple tasks. A simple example can be mentioned, such as businesses starting to store customer and goods data on the CRM system instead of saving them in Excel files, or using cashier POS machines to avoid manual calculations. Therefore, the value of digital products at this stage is to help increase efficiency and avoid errors that often occur when handling manual work.
In the second stage – Integrated & Transformed, digital products are interconnected to perform more complex tasks, and create added value for customers and businesses. In this period, digital products help businesses reduce the consumption of many resources compared to performing tasks manually and traditionally.
Let's say a retail business wants to run a promotion. Tools in phase 1 such as POS, CRM, Inventory management... are performing individual tasks, will be linked together and serve the goal of effective promotion planning. In particular, when the data of the parties is closely linked, businesses can apply personalized activities. From there, predict and provide the right promotion program with the needs of customers. Conversely, if the above tools are not linked together, businesses will spend a lot of resources to be able to deploy one promotion per month. Even the program did not go smoothly because there were many unfortunate cases such as the sales department not remembering enough programs, or the store was short of goods while running a promotion...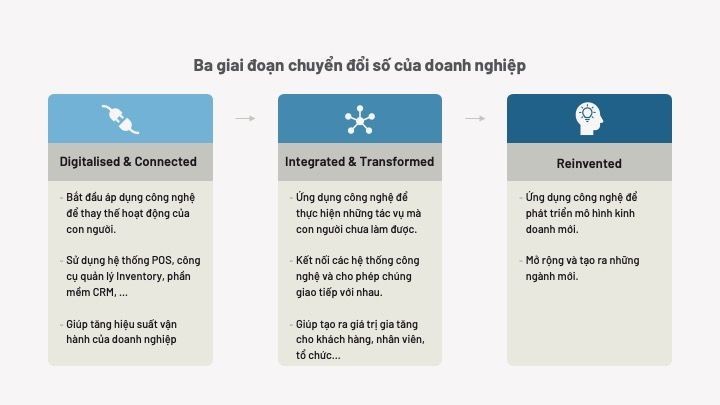 Finally, it is the stage of Reinvented. If the previous 2 stages are more about the complexity and handling of digital products, in the 3rd stage, businesses will create new values ​​or business models based on digital solutions.
Example of "reinventing" Walmart's business. Since entering the e-Commerce market in 2009, Walmart has determined to go head-to-head with Amazon. However, the pressure of Walmart's digital transformation increased when Amazon acquired the Whole Foods supermarket chain (August, 2017). However, Walmart has been prepared in advance. Not long after the deal between Amazon and Whole Foods, Walmart joined hands with Google to promote its e-Commerce business. Walmart even went deeper, partnering with Adobe to sell e-Commerce technology to other retailers. As a result, Walmart created a long-term value chain and "transformed" its business. Currently, in addition to being a retailer, Walmart has been also a digital service provider for other small and medium-sized retailers.

Mr. Đạt: I have visualized 3 main stages through Mr. Triet's sharing. So the question is, is there any method for businesses to determine which stage they are in?
Mr. Triết: In my opinion, to determine, businesses need to consider the role of digital products in each stage. The simple way to define the stage can be imagined as follows.
First of all, if digital products are making employees' work easier, faster and safer, the business is in stage 1. At that time, digital products have not yet created added value for the business. In the case, the department not only approaches digital products from a business perspective, but also uses technology to solve a certain problem, creating added value for customer experience, the operation process of Enterprises and management decision making, the business is in stage 2. In stage 3, the role of digital products is to help businesses develop and test a new branch or business model to realize the new vision.
Mrs. Duyên: Mr. Triet shared what is the data for businesses to determine at what stage. I would like to add more about the need for digital product application, from the internal side of the business and the problem with competitors.
First of all, the need to apply digital products often arises when businesses want to solve challenges or seize opportunities in the business process. At this time, the digital transformation aims to help businesses to solve the problems they are facing, consolidate their advantages in the industry with high operational efficiency. After that, businesses tend to return to evaluate the role of digital products in business operations to continuously optimize, create added value to really differentiate themselves from the competition. When in the stage 3, businesses define a new vision, not only want to compete with competitors but also want to become a "game changer" in the industry. At that time, they can choose to learn on their own to transform, or seek digital transformation consulting companies to conduct experiments on new and "makeover" business models.

Mr. Đạt: So which functional areas (Business Area) do businesses need to analyze for digital transformation? Why?
Mr. Triết: In my opinion, in the digital transformation, businesses need to consider both the business and the functional level. Businesses need to know clearly which kind of activities of digital transformation aims to create added value for. For example, to increase revenue, improve customer experience, upgrade warehouse management system... So which departments or functional areas need to be digitized, and to what degree of transformation to achieve value the above increase? Next is to measure the digital maturity of the field to be converted and then come up with an appropriate digital solution.
For example, with promotions, Marketing or Inventory team will need more technology investment than Finance team. Because in contrast to the Finance team, the Marketing and Inventory team need to use more optimal technology to design an effective value-added strategy to help businesses achieve their business goals.
Mrs. Duyên: At first glance, digital transformation seems to be the digitization of only 1 or 2 departments, but it is actually the process of transforming an entire business. To build a good digital product, creating an impact as the philosophy of GEEK Up, businesses need to help the product maker understand the operating process, business insights, and users... And I believe digital products can only maximize their value when businesses are ready to transform their operating processes.
Mr. Đạt: Thus, digital transformation requires many things, from strategy to understanding the competitive advantage that businesses create, to determining what operating processes need to be changed, which needed mindset, what kind of technology to use... Then continue the necessary activities for employees apply the new technology operation process.
Thank you for the sharing of Mrs. Duyen and Mr. Triet. In the next issue, my guests and I will dig into what options that businesses can consider to achieve their growth goals during digital transformation.

Source: brandsvietnam.com
Get latest updates from GEEK Up