Digital Product #2: "Product Partner builds digital products based on insights from businesses and customers"
"Selecting digital products is associated with business needs. If it is a popular demand, businesses should buy available digital products in the market. As for the needs of customer experience and creativity, businesses should consider building their own unique digital products.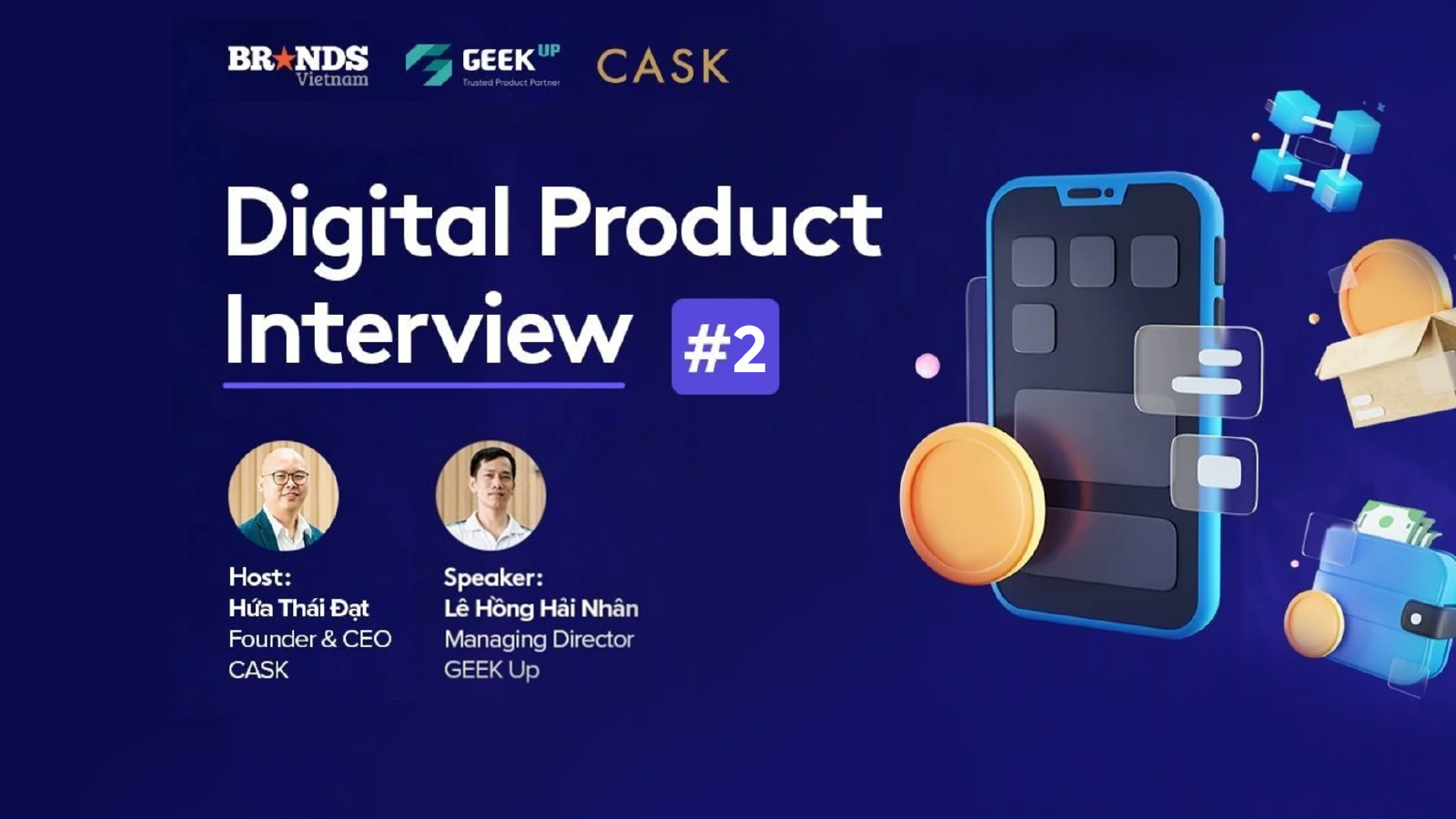 This is shared by Mr. Le Hong Hai Nhan - Managing Director of GEEK Up, in the 2nd publish of the Digital Product series.
Digital Product is a series made by Brands Vietnam and GEEK Up, under the leadership of Mr. Hua Thai Dat - Founder & CEO of CASK. This is a series of content that delves into the role and way of developing digital products, in order to bring the topic of Product Development closer to audiences who are interested in Digital Transformation & Business Innovation.
Mr. Đạt: Currently, when reminding about digital transformation with a digital product, there are still many different perspectives on the market. In your opinion, what is a digital product? Can you share some examples to make it easier for audiences to understand?

Mr. Nhân: In a simple understanding, a digital product is part of the digital transformation process. Digital transformation is the process by which businesses change their business models, decision-making methods and ways of working with customers to be more suitable in the digital age.
For example, a business can set goals in the next 5 years, wanting to achieve different levels of maturity in the digital transformation process in turn. At that time, businesses need to apply many digital products to realize the above goal.

Depending on the aspect of digital transformation, businesses will need to deploy different digital products.
I take another an example relating to the needs of the customer array. If you want to collect and store customer information to take better care of them, then businesses will need a CRM system. If you want to make online payments for customers more seamless, businesses can integrate digital products such as MoMo payment gateways, ZaloPay, etc. into payment options. Or in the case of social distancing, businesses can apply platforms specializing in order and delivery… It can be seen that, only in the field of customer care, businesses already have a lot of digital products to select.

Mr Đạt: In the previous sharing session, I learned that businesses need to determine the context and focus level before conducting the digital transformation or applying digital products in which Business Area. So, after completing this phase, what should businesses do next?

Mr. Nhân: Based on my experience, after completing the context and focus assessment, businesses need to consider Product Solution – the solution that helps to solve the business problem. Product Solution can be an idea or concept, not a necessarily finished product. For example, if you want to build relationships with customers, businesses need to determine the Product Solution they need is a website or an application.

Having a preliminary idea of ​​the Product Solution that businesses expect will make the stage of finding partners to implement the solution easier. However, there are also cases where businesses have not yet identified the right Product Solution. At that time, they need to find partners that can advise on solutions that are suitable for their needs. Currently, most of the product agencies can do this.
After that, businesses will start to consider whether to "buy" available digital products n the market or build their own.

Mr Đạt: What factors do businesses need to consider to decide whether to buy or build digital products themselves?

Mr. Nhân: In my opinion, businesses need to consider 3 criteria, including business needs, existing resources and development orientation.
First, about business needs. If it is a popular need, businesses should buy pre-existing digital products. If it is a need for experience and creativity, businesses should consider building their own unique digital products. For example, with the desire to make sales easier, businesses will need a POS system. This is a fairly common need so it is obvious that there will be many available products in the market. Therefore, businesses should buy ready-made products rather than invest resources to build themselves.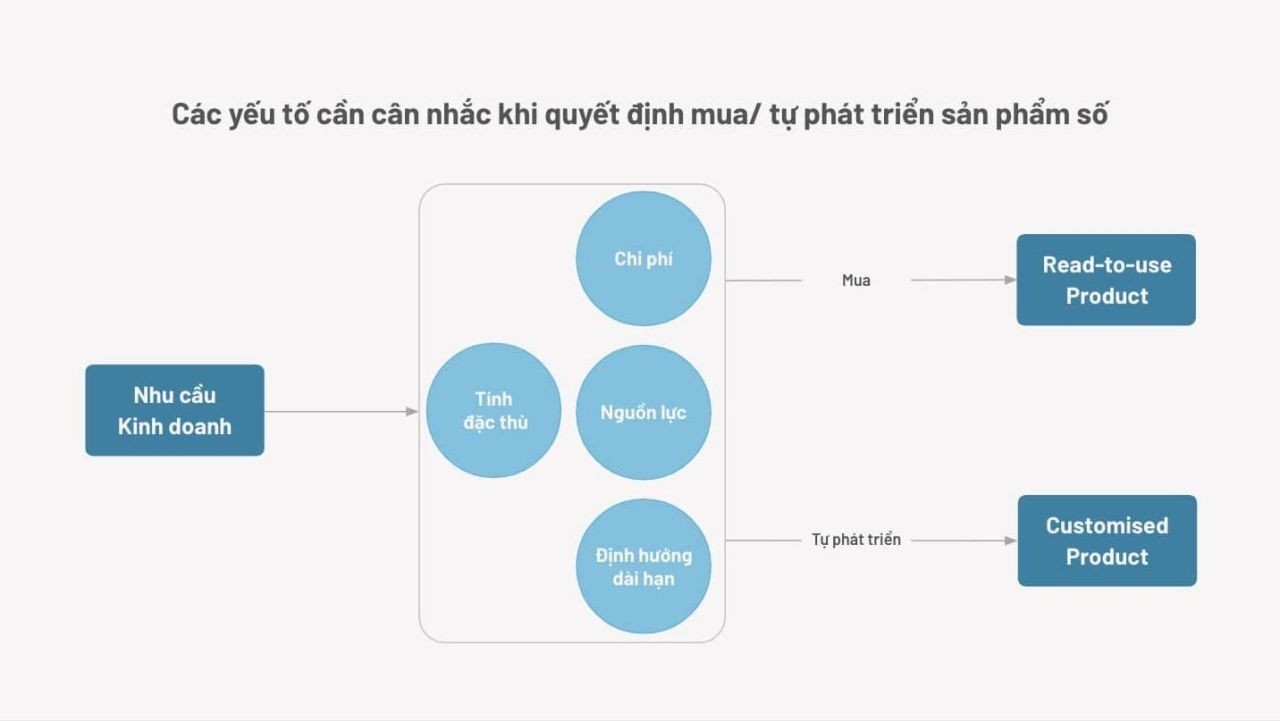 The second criterion is resources. Based on my own experience, I see a big difference in the needed resources between buying and building. It can be said that, when deciding to build a digital product, businesses need to invest large and long-term resources. Meanwhile, today there are many digital products offered as a service (Software as a Service) that allow customers to buy and try at a reasonable cost. After a trial period, businesses can decide to purchase a long-term service plan. On the contrary, if businesses are not satisfied, they can still promptly switch to the direction of building digital products.
Finally, businesses need to determine whether do the solution they choose is a core competency, creating a competitive advantage in the future? If yes, then businesses are forced to build unique digital products to make a difference.

Mr Đạt: As shared by Nhan, perhaps finding information about available products is not difficult. So if businesses are determined to build digital products, what approaches do they have?

Mr. Nhân: First of all, I note that a digital product unit needs to converge 3 factors:
Product Solution: understand business needs to find the right solution
Product Expertise: (1) the expertise to build digital products that can solve business problems, (2) make end-users happy to use, and (3) optimal technology integration, making it easy for businesses to operate and upgrade
Product Mindset: the concern of each member about the decisions being made in the working process so that digital products bring value to the business
The most ideal approach for businesses is to set up an In-house Team to make digital products with all three of the above capabilities. The biggest advantage of In-house team is understanding the business problem. Especially, when the initial assumptions about the product are not clear, the In-house team can respond flexibly and quickly and easy access to information sources of the business. In case the business cannot afford to organize an In-house team, it can choose an external partner. There are two typical types of partners in the market today: Outsourcing Provider and Product Partner.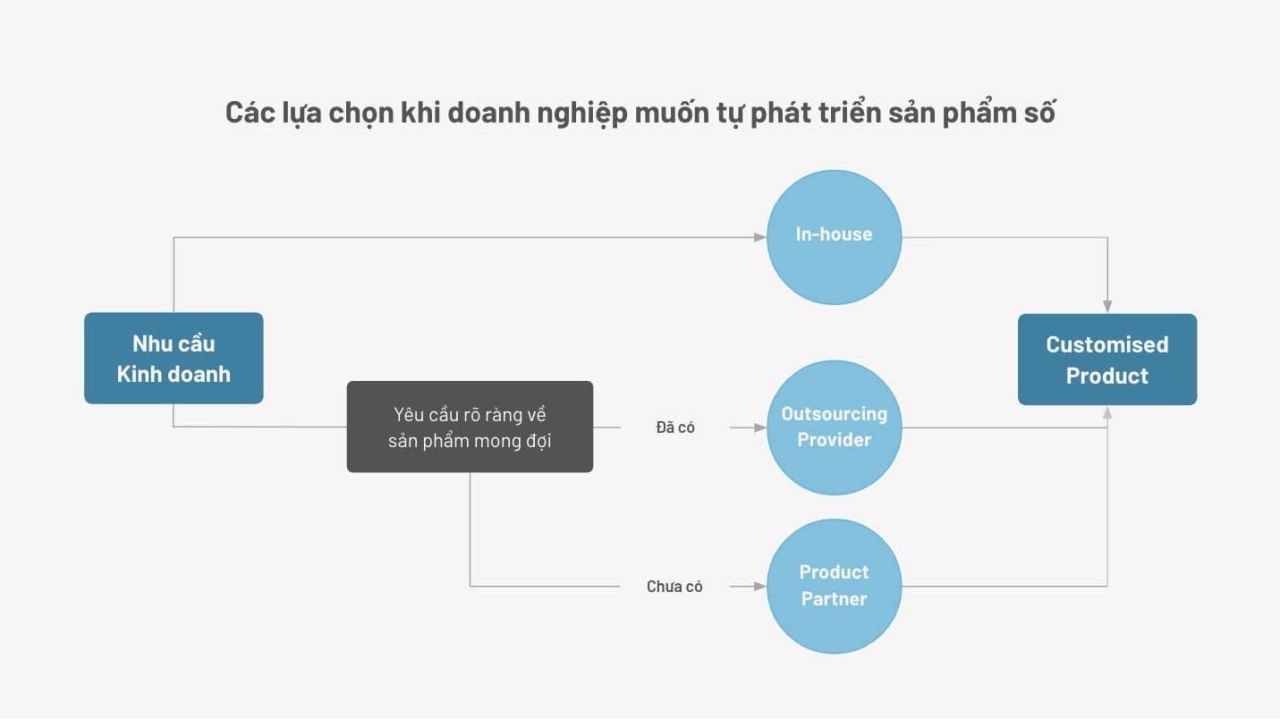 Outsourcing Provider is a unit that has the ability to fulfill a specific requirement (Product Requirement) from an enterprise in a predetermined period of time with a pre-planned budget. Businesses that clearly understand the digital products they want to build, and have the ability to evaluate or verify the finished product, can choose to cooperate with Outsourcing Providers. In contrast, businesses that only have a product idea or have just identified a business problem will need the support of a Product Partner. Product Partner will accompany businesses from ideation to digital products, then put into operation and create value for businesses.

One notable difference between an Outsourcing Provider and a Product Partner is understanding. Businesses tend to understand customers in terms of how to sell their services. Therefore, Outsourcing Providers often focus on businesses and product features. The Product Partner will work with businesses to discover insights from customers and end users from the perspective of how they interact with digital products. Therefore, Product Partner will focus more on customer and user experience.


Mr Đạt: As you mentioned, Product Partner will accompany businesses throughout the process of making digital products. Could you please share an overview of this workflow?

Mr. Nhân: Deep and long-lasting are two words to describe the cooperative relationship between a Product Partner and an enterprise. Only in this way can the two parties create digital products that have an impact and bring added value to businesses. I will summarize the working process between the Product Partner and the business by the applicable GEEK Up operating process.


First of all, Product Partner must conduct many rounds of internal business interviews from business owners to departments specializing in building customer-related solutions. Thereby, we can understand the context and strategy of the business and begin to build the digital experience of the end user (User Journey Map) as well as the User Persona.
Usually, on the entire journey of a customer interacting with a business' product or service (Customer Journey Map), there will be many touch points, and only a few of them are resolved by digital products. Product Partners need to understand the context in which users interact with digital products to be able to build user portraits and their experiences at that touch point.

For each identified User Persona, GEEK Up will interview approximately 3 representative users in the target user population. Here, businesses will participate in selecting survey subjects and together with questionnaires to deepen user insight.
It can be seen that the Product Partner in collaboration with the business invest a lot of time and effort in the pre-conception phase or design related to the experience. In my opinion, such thorough research will help shorten the editing time at the later stages.

With the amount of information collected previously, Product Partner will conduct digital product design. Depending on the stage, we will have to check with businesses and users, then receive feedback and make corrections. For example, at the design stage of information organization, or tasks in the application, the unit will verify with the business. On the user side, the Product Partner will conduct a re-evaluation when the experience design is relatively complete such as wireframe design, interface design, etc.
After the design phase is programming and acceptance. A rather special feature of Product Partner is that the programming comes from the concept, the ideas from the analysis phase, and the outputs collected at the design stage. This helps to avoid the "disconnect" between the programmer and the digital product. Programmers will understand the role of each line of code to create the best possible product.

Usually, after getting the finished product, many digital product units will conduct acceptance testing. However, at GEEK Up, we add a period called Product Business Fit within 1-3 months. This means that we deploy the product together with businesses to identify vulnerabilities and quickly correct them.

Mr Đạt: As I know the number of Product Partners is quite limited in Vietnam, according to Nhan, what is the reason?

Mr. Nhân: As I mentioned before, a Product Partner needs to have all 3 competencies: Product Solution, Product Expertise, and Product Mindset. Basically, each business will have a different problem, so a Product Partner needs to have many Product Solutions to be able to quickly understand the problem and propose the right solution.

Moreover, building digital products in an era where customer experience is more important than features is extremely challenging. This requires the Product Partner team to have good analytical ability, the ability to understand users to design experiences. Not only that, the team also needs to be able to program the optimal experience that the business requires. At this point, the challenge for Product Partner is to build the above capabilities and connect them to create quality digital products.

The last element is the Product Mindset, which is related to build a business culture. At GEEK Up, the goal of building a digital product to solve a business problem was formed by the Founder team from the very beginning stage. This spirit is growing stronger and imbued in the corporate culture. As a result, naturally, the team when building digital products will think about whether they bring value to the business.
Those are the required elements in a Product Partner unit. I think it is a big challenge to build a team with the above 3 groups of competencies. Perhaps this is the reason why the number of Product Partners in the Vietnamese market is still limited.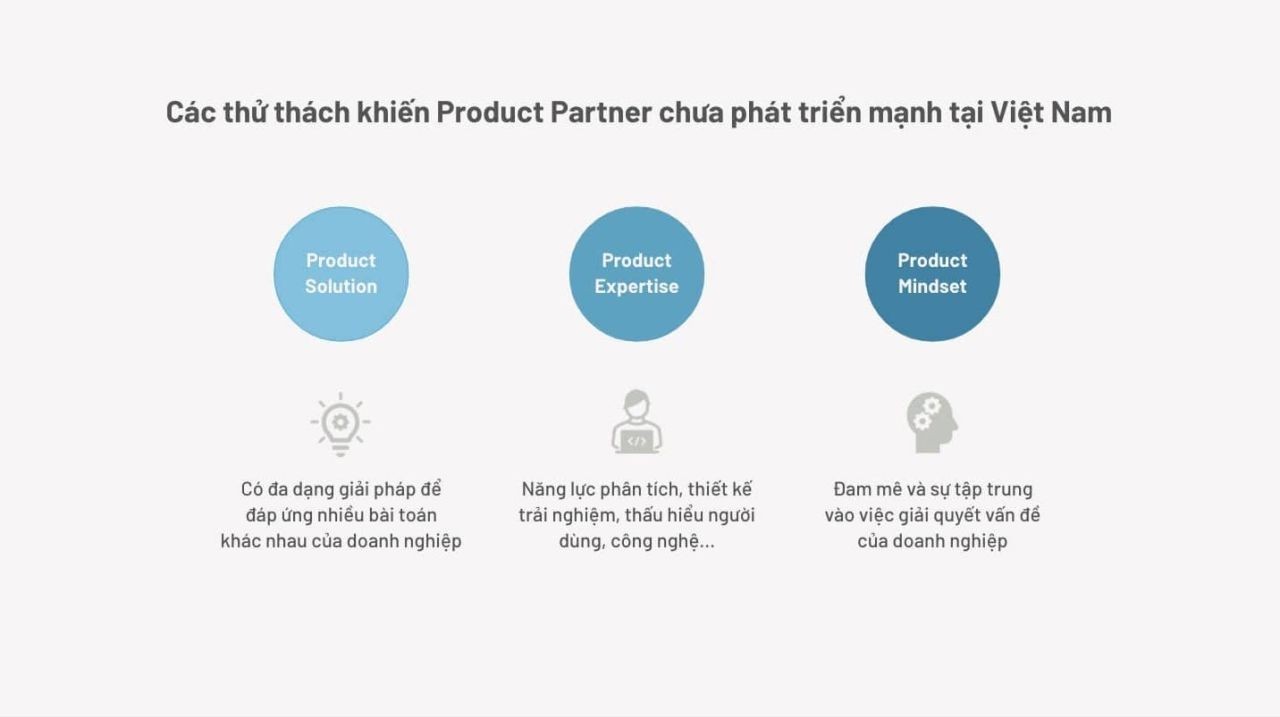 Mr Đạt: So in your opinion, will the number of Product Partners in the Vietnamese market increase in the future? Why?

Mr. Nhân: 8 years ago, GEEK Up and another Product Partner unit entered the new field of building digital products in Vietnam. However, at that time, the experience was not focused much along with the above barriers, GEEK Up encountered many difficulties, and the other unit had to stop working soon.
However, in the past 2-3 years, user experience has been one of the focus of development strategies for businesses. People are starting to pay more attention to other competencies that a Product Partner must have, not just programming skills. Therefore, I believe that soon more Product Partner units will enter the market.

Mr Đạt: Thank you for sharing useful information. Thereby, we see that there are many different options that businesses can consider when implementing digital transformation: from buying existing products, cooperating with an Outsourcing Provider, or accompanying a Product Partner. Each form will have different advantages and disadvantages and depending on the needs of the business, you should choose the appropriate solution.
Product Partner units like GEEK Up are still a new concept in the Vietnamese market. So, in the next sharing session, we will dig into how businesses and Product Partners interact through an interesting case study.

Source: brandsvietnam.com
Get latest updates from GEEK Up