COVID-19: How Google Pay Is Helping S'pore F&B Bizs With Its New 'Menu Discovery' Feature
Google Pay Singapore launched their new 'Menu Discovery' feature today (April 28) to help local F&B businesses that are struggling due to the dining-in ban.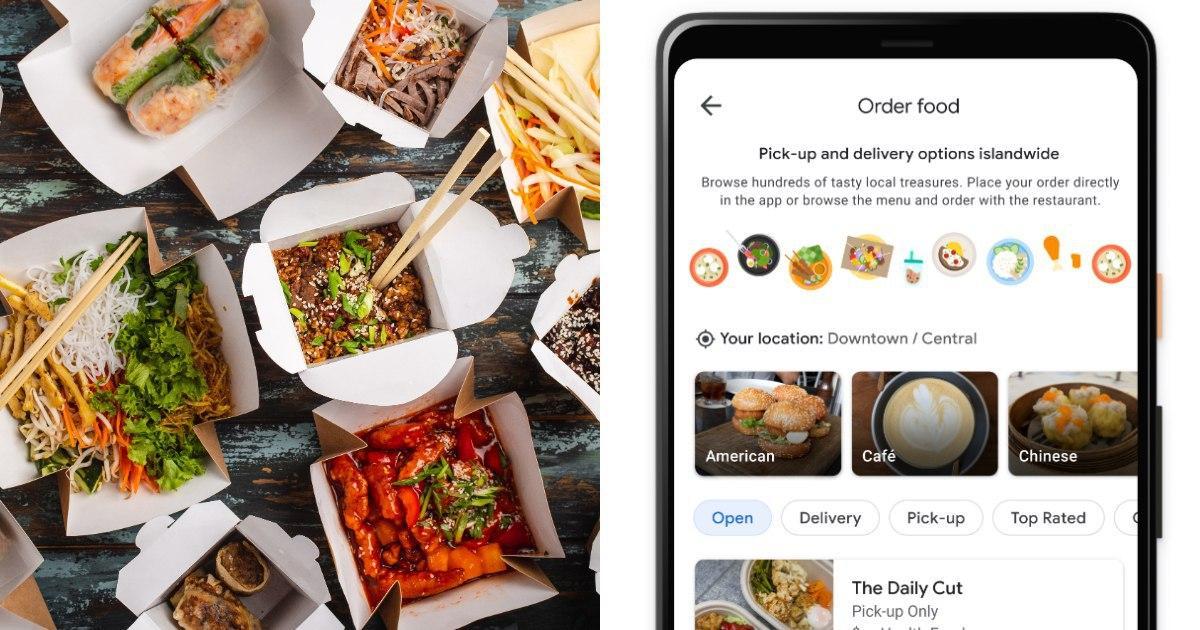 Google Pay Singapore launched their new 'Menu Discovery' feature today (April 28) to help local F&B businesses that are struggling due to the dining-in ban.
When the 'circuit breaker' kicked in, many F&B establishments had to stop their dine-in services and relied on ground-up methods to share their menus and publicise their pick-up or delivery options.
Users can now find available food options through this new feature on the Google Pay app.
New Feature Lets Users Find Food Merchants
The new 'Menu Discovery' feature on the Google Pay app helps food merchants be discovered easily on the platform.
Food merchants can upload their full online menus for free, and customers may easily discover them on the platform.
For users to discover the merchants and order from new eateries around them, they just have to go to the 'Explore' function and tap on the 'Order food' button which will show them merchants based on their location.
There are currently close to 250 merchants on the platform, said Su Mei Teh, APAC Head of Payments Product Operation at Google.
Some of these merchants include Burger King, Canadian Pizza, Cedele, Da Paolo Group, The Daily Cut, Tuk Tuk Cha, Kok Sen, O Banh Mi, Outram Park Ya Hua Rou Gu Cha, Blue Ginger, O.BBa BBQ Jjajang and NUDE Seafood.
This free feature, which took 2.5 weeks to create, will be gradually improved over time with feedback from users and merchants.
Google Pay said it's working with five agent partners — Aigens, FoodZaps, Novitee, TabSquare and Waitrr — to onboard and fully integrate more food establishments onto the Google Pay platform.
Not all merchants are fully integrated in the app.
For fully integrated merchants, users are able to order and pay within the app for their orders.
A quick search on the app showed that major brands including Burger King, Cedele, Canadian Pizza and Eighteen Chefs allow users to place and pay for the order within the app. They can then opt to pick-up the orders themselves or have them delivered, depending on the eatery.
For non-fully integrated merchants, users can only browse the menu and select items within the app. They would then need to either call or message the merchant to confirm the order, before proceeding to the stall to collect and pay for their order.
Google is also working with Chope to make this menu discovery option possible for Chope-affiliated food establishments.
Google Pay Took 2.5 Weeks To Build This Feature
The conceptualisation of this idea came about after Su Mei and her team had a pain point trying to order from menus sent over WhatsApp — they had to toggle between the menu images and WhatsApp chats.
In this 'circuit breaker' period, many F&B merchants are trying to reach customers through word-of-mouth and other informal means to continue driving sales.
Noting this trend, the team made use of their already established food ordering platform on Google Pay to help these merchants with more intelligent discovery, while also giving customers a more convenient means for ordering-in.
Quick food pick-ups and door-to-door deliveries are now a necessity, as Singaporeans stay home during this critical period. Like several others in Singapore, we too were sharing food menus among family and friends.

So we thought, what if we could scale this and make this easier for consumers and restaurants? We rallied our employees to come together quickly and discussed ways in which we could offer a solution.

– Patrick Teo, Director of Engineering for Payments and Engineering Site Lead at Google Singapore
They enlisted the help of over 100 members of the Google Singapore community (called 'Googlers') to nominate their favourite F&B establishments and include their online menus.
After collating this list, the team went on to code them into the Google Pay app — all this was done within 2.5 weeks.
"We hope to make the process of discovering local eateries simple and easy, and support even the smallest businesses — like hawkers — and minimise disruptions to their business," said Teo.
"We have rushed to get this out and will continue to improve the experience and hope that the easy access to a variety of food options will help Singaporeans enjoy their meals safely at home and support small businesses during these tough times."
For local F&B businesses who are not on Google Pay app but are interested in having their menu included in the app, they can fill out their details and submit the form here.
Featured Image Credit: Tokyo Cheapo / Google
Nhận thông tin mới nhất từ GEEK Up