Enabling Human Capacity in technology development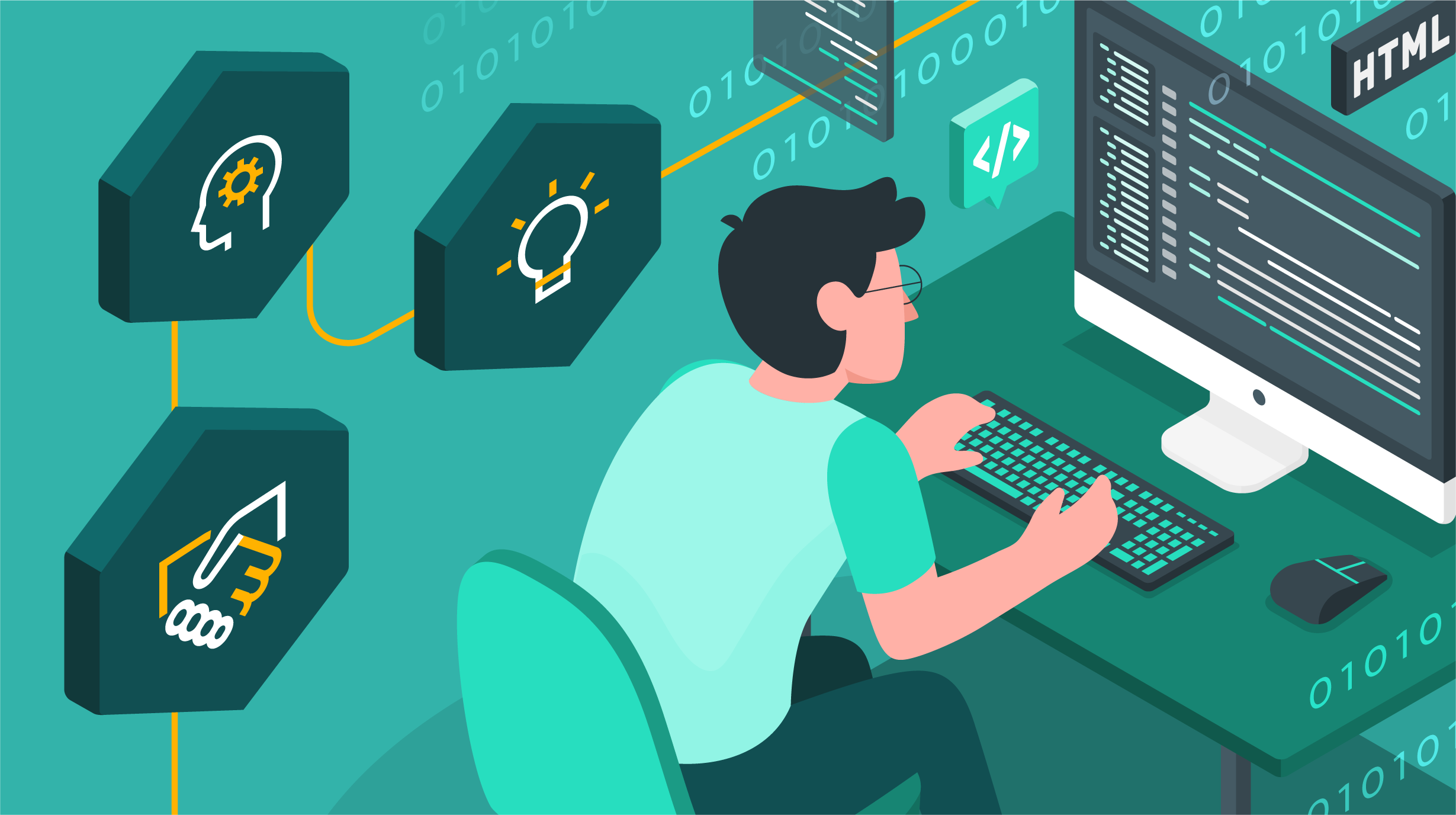 Technology capacity is the prerequisite element to build digital products making a positive impact on business. However, creating an optimal digital experience to satisfy users depends rarely on that capacity. As 8+ years of experience in developing more than 120 digital products, in parallel with the focus on applying and updating innovative methods and technology platforms, GEEK Up always focuses on developing human capacity and combines these two elements to create "Impactful Products".

1. Building Digital Products: Technical capacity is enough?
In the last 2 decades, when the Vietnamese IT industry was still immature, developing the technical capacity has been one of the priorities in the application development. In 2017, according to A.T Kearney's statistics, Vietnam was in the Top 5 attractive destinations for IT Outsourcing Services. Nowadays, technical skills in Viet Nam are enhanced and verified by international standards. It proves that digital products become popular and technical capacity is a must-have element, but no longer the only one.
For 2-3 years recently, the user experience is a core element of the business strategy. People focus on other necessary capacities more than technical skills. Subsequently, businesses search for not only Outsourcing Providers which have capacity to develop digital products with detailed requirements but also Product Partners to create impactful product, delivers outstanding experiences for users & enhances competitiveness for businesses.
On this trend, according to experts in GEEK Up, technology developers have to have 3 elements:
Product Solution: The ability to understand the needs and circumstances of the business to find and advise appropriate solutions.
Product Expertise: The expertise to build digital products that can (1) solve a business problem even when this problem is still unclear and ambiguous, (2) make end users feel excited and return to the business, and (3) integrate optimal technology that helps the business operate and upgrade easily.
Product Mindset: team member's concerns about the decisions are made during working process to create digital products that brings most value to business.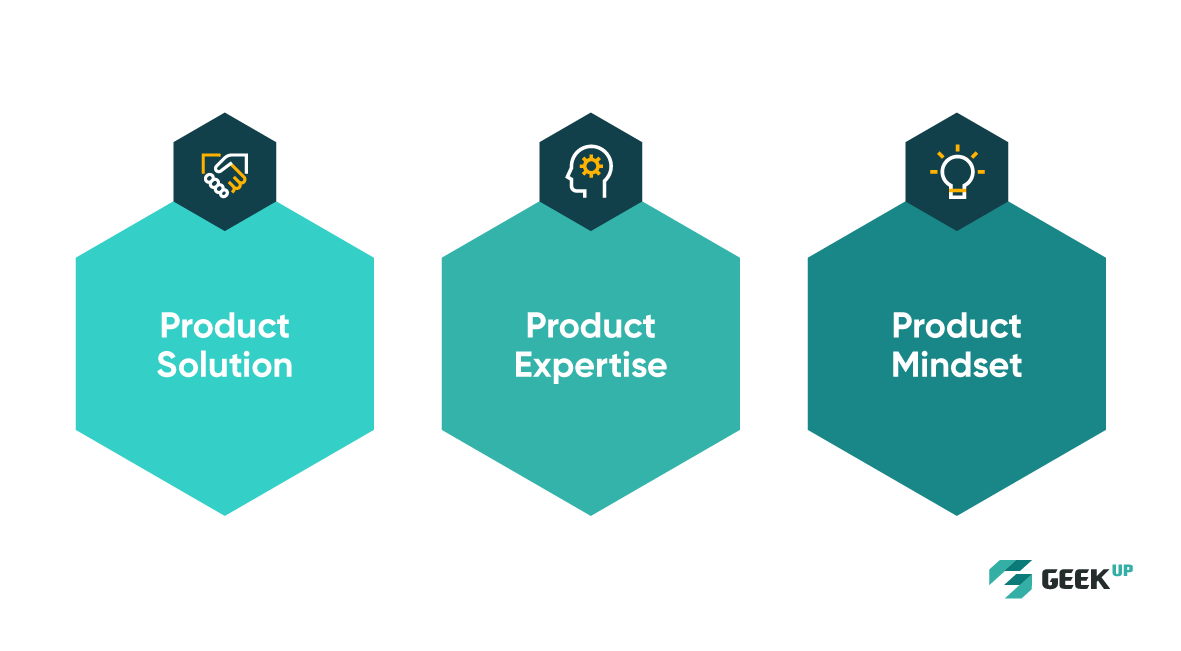 And Product Partner is the answer! Not only cooperating with businesses from crafting ideas to the launch of working product that brings benefits for businesses but, a Product Partner, as GEEK Up, also focuses on the core value of products based on understanding users and applying appropriate technology, operation feasibility, in parallel with enhancing the technological capacity of the in-house team. With the philosophy of "Impactful Product", GEEK Up creates a competitive advantage by providing value and optimal user experience for businesses
2. Human Capacity in Digital Development: Building a unique digital experience is a priority.
How is human capacity shown through the 3 groups of competencies of a Product Partner?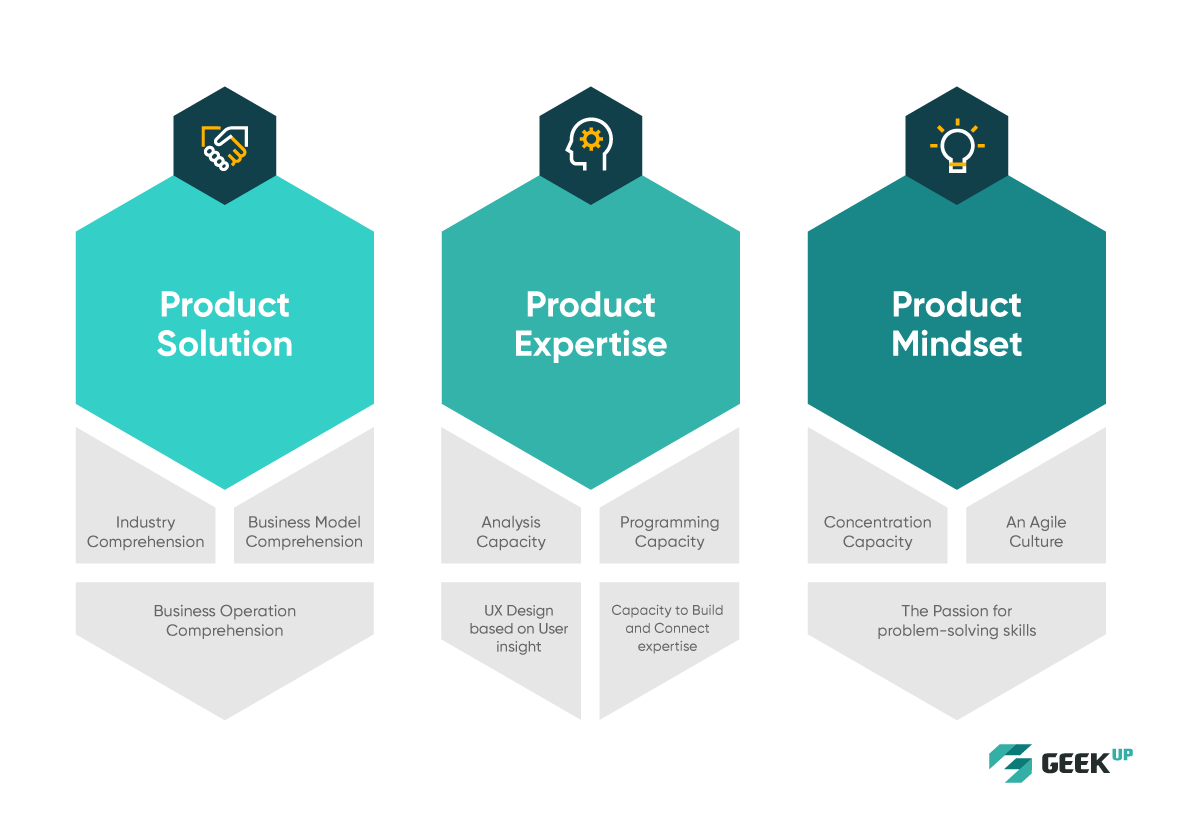 Firstly, each business will face various problems and need to find out specific answers corresponding to its situation, thereby Product Partner should have a variety of Product Solution to analyze and proposes suitable solutions. To complete this mission, the product team needs the capacity to comprehend and analyze industry in general as well as Business Model and Business Operation.
Secondly, building digital products in an era when a seamless, uninterrupted experience preferred more than features is such a serious challenge. Therefore the Product Partner is required to have good capacity to analyze, collect and understand user insight to design a good UX. Moreover, the product team also needs to have programming capacity to implement optimized experiences as business' requirements. Hence, the main challenge for the Product Partner is to build and combine these capacities and connect the dots to build high-quality digital products.
The final factor is the Product Mindset which is related to build the corporate culture. In GEEK Up, the goal to build digital products that solves certain business' problems was formed by the Founder team from the early days. This mindset is growing up more powerfully in the company culture. As a result, the product team will come up with the outputs satisfying core business values inevitably. Next, GEEK Up's operation is based on an Agile model. Instead of project management, all members are also well "equipped" with the self-management skill, high ownership in their tasks and relevant projects which are no longer limited within the product teams. In addition, the Flat Organization in GEEK Up also increases the number of senior members as the participants in all projects, building strong coordination with decisions in time to ensure timeline and high-quality products. With that in mind, GEEK Up works closely with client partners in every stage of the product development journey as well as every aspect of the project from the right cost, scope, time to working product.
3. The combination between technology and human capacity
To fully impact on users and businesses, a digital product have to be balanced between Technology Capacity and Human Capacity. The products will not launch without technology capacities. To meet the user's needs as well as create impressive solutions, the products have to build on customer insights and business circumstances.
With the combination and balance of Technology and Humans, GEEK Up worked with many businesses to develop more the impactful product. Some of the typical projects and products includes:
The success of these projects and digital products is derived from the technical capacity and expertise proficiently combined with the human capacity in creating comprehensive digital experience and the companion of GEEK Up. Especially the super apps or apps within the huge ecosystems require seamless experience and integration with the operating system of businesses. It proves that the technical capacity is not enough for businesses that demand building an impactful product for its users and the business.
-----
Contact GEEK Up if you need advices for digital product solutions from a Trusted Product Partner with expertises in UX/UI design.
📞 Hotline: +84 93 500 3830
📧 Email: hello@geekup.vn
🌐 Website: https://geekup.vn/
📍Address: 244/31 Huynh Van Banh, Ward 11, Phu Nhuan District, HCMC
Get latest updates from GEEK Up