TPBank and the journey to become the best digital bank in Vietnam in 2020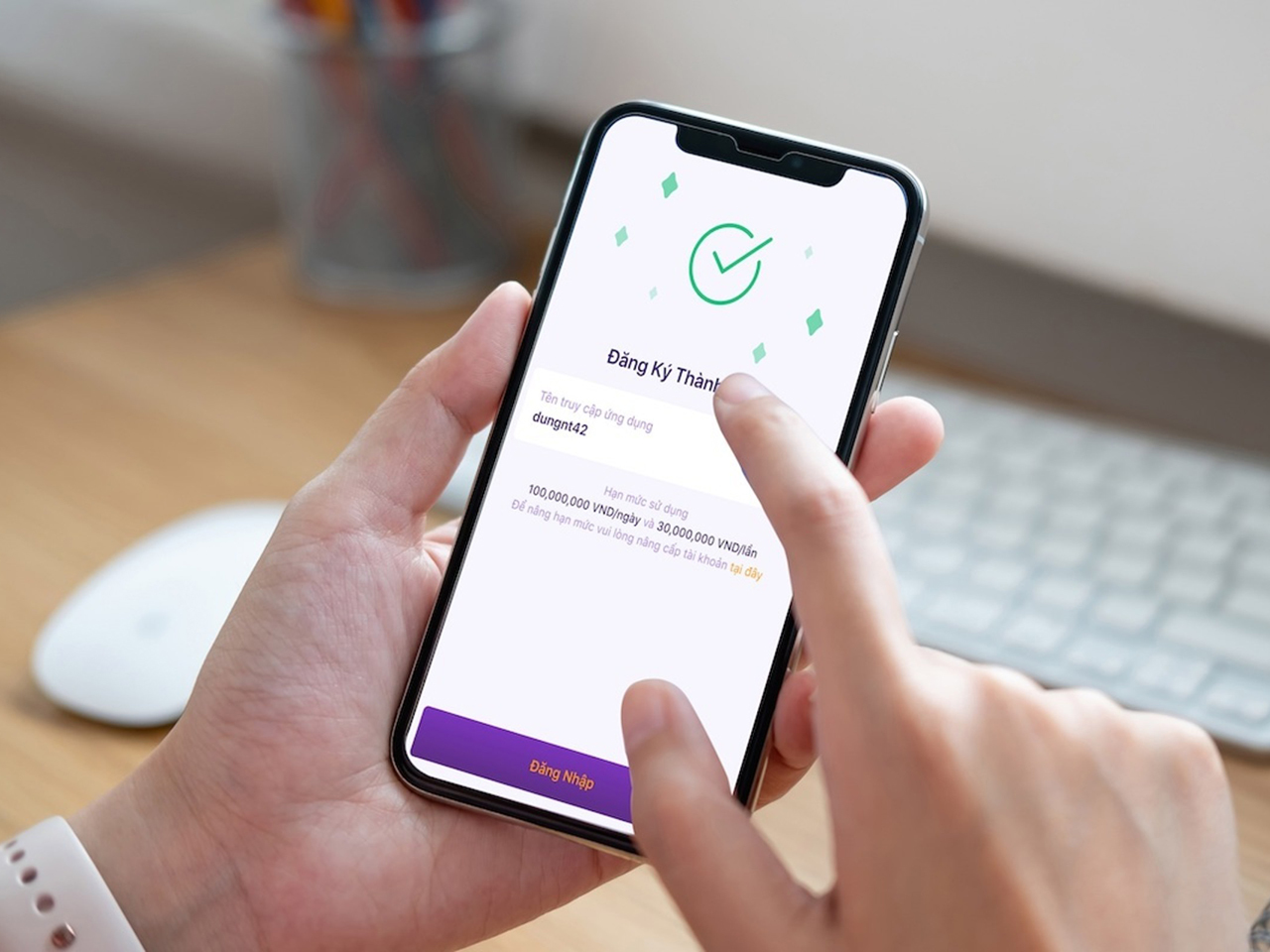 TPBank - The pioneer digitalization in the field of Finance
TPBank (Fullname: Tien Phong Commercial Joint Stock Bank) is a leading bank in the field of digital banking, modern banking products and services such as accounts, credit cards, savings,... in Vietnam. For many years, TPBank has been continuously voted as the best digital bank in Vietnam despite its relatively young age when compared to the domestic banking sector. TPBank's strength is its group of digital financial services and modern digital infrastructure targeting the young and dynamic customer segment.

Since 2017, TPBank has invested in building digital products even when the financial industry market has not paid much attention to digitization and the state has not yet had related laws.

In 2018, TPBank's digital financial solution team was developed on 15 different applications such as: Mobile Banking, Savy - a "universal" saving application, QuickPay - a flexible payment method via QRcode, Cardy, mPOS , FiCo, LiveBank - 24/7 automatic banking model... All these outstanding products have helped TPBank become the first bank with a diversified and outstanding digital banking ecosystem in Vietnam.

The cooperation between TPBank and GEEK Up with the determination to satisfy user needs
With the high ambition, TPBank has constantly improved products with the goal: "How to make personal financial services becoming the most convenient?". In 2018, TPBank cooperated with GEEK Up to create a unified "Wow" experience on the application ecosystem.

At that time, single applications (apps) served different financial goals of different user groups. Fragmented user experience across multiple apps and lack of synchronicity prevented users from enjoying the synergistic value of the entire ecosystem.

After a year with huge efforts, TPBank's application with a completely new interface was born, receiving many compliments from users and experts in a row. These were: TPBank Mobile (an application that provides banking services), Savy (an application to save money online), TPBank QuickPay (an application that helps pay via QR codes) and these products are built on three platforms. Platforms: iOS, Android, and website.
The fruitful result of the journey to conquer customers with experience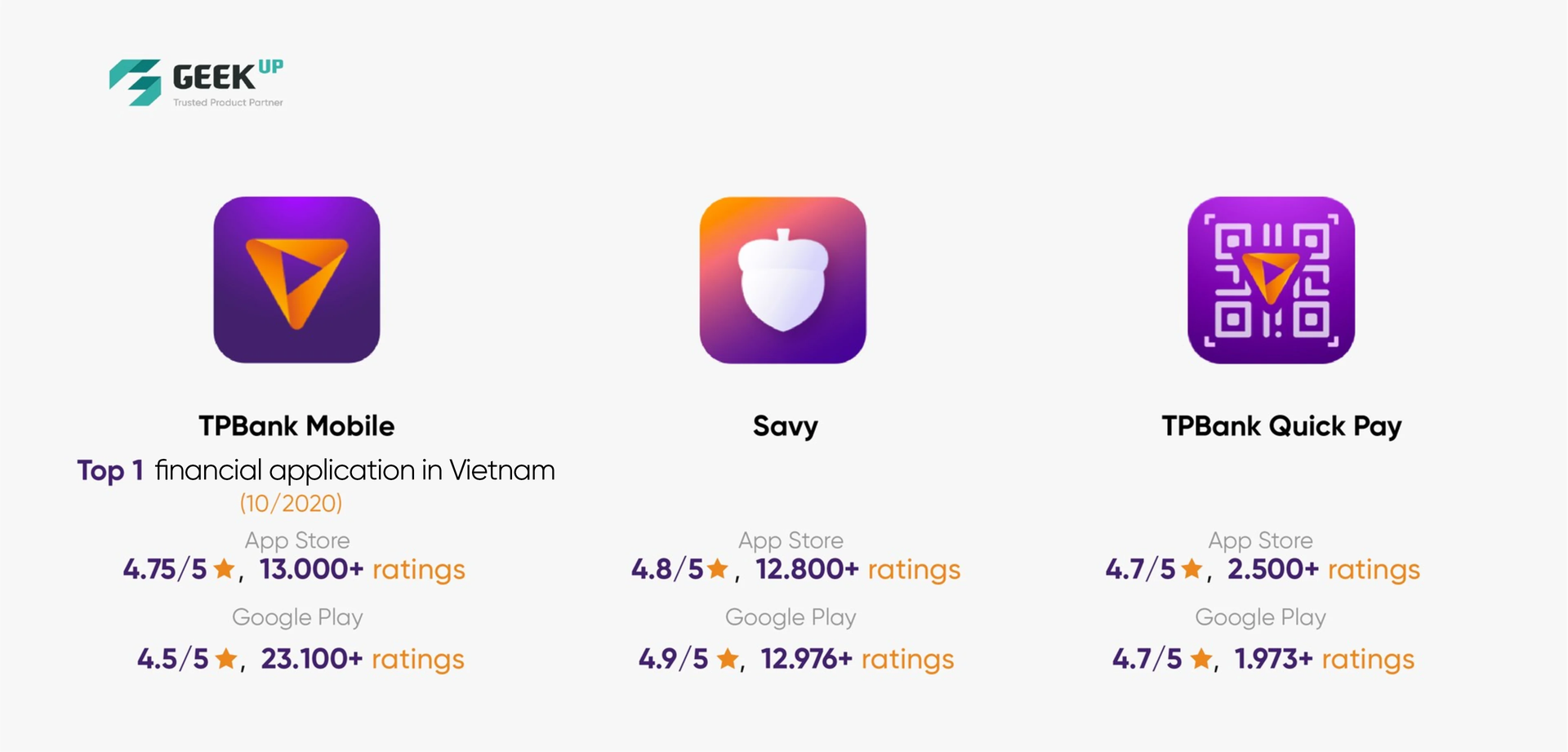 Good news continuously came to GEEK Up Product team and TPBank when TPBank Mobile suddenly achieved the top 1 in the ranking of Vietnamese financial applications on the App Store and Play Store in October, 2020 with a rating of over 4.5 stars above all 2 platforms.

The Savy app and TPBank QuickPay also gained impressive review scores. Savy Application achieved a near absolute rating (4.9/5 stars) in March, 2021.
On the professional side, TPBank had won many prestigious and quality awards for digital banking applications.
In 2019, TPBank received the three important rewards, including:
DG Vietnam honored as Outstanding Digital Bank in 2019
VDCA (Vietnam Digital Communications Association) honored as Outstanding Bank in Digital Transformation
Global Banking and Finance Review awarded Best Mobile Savings App in Vietnam
In 2020, TPBank gained the three important rewards by The Asian Banker as followings:
Best Digital Banking
Best Saving Account
Best Branch Innovation
In the context of the business environment deteriorated by the Covid-19, TPBank's revenue rate still increased strongly because the digital financial service system has helped the bank maintain almost normal operations. The number of new accounts and cards opened through the LiveBank system in 2020 increased by 4 times in 2019, CASA increased by 5 times, and LiveBank machines processed more than 7 million transactions, the increase of 130%. The number of new customers rose significantly in the past year, bringing TPBank's total number of customers to 3.6 million. Clearly, the great outcomes of TPBank's business has come from huge efforts by improving the digital financial system over the years.
-----
Contact GEEK Up if you need advices for digital product solutions from a Trusted Product Partner with expertises in UX/UI design.
📞 Hotline: +84 93 500 3830
📧 Email: hello@geekup.vn
🌐 Website: https://geekup.vn/
📍Address: 244/31 Huynh Van Banh, Ward 11, Phu Nhuan District, HCMC
Get latest updates from GEEK Up