Viettel Media cooperates with GEEK Up, building user experience for "Entertainment Super App" - Mocha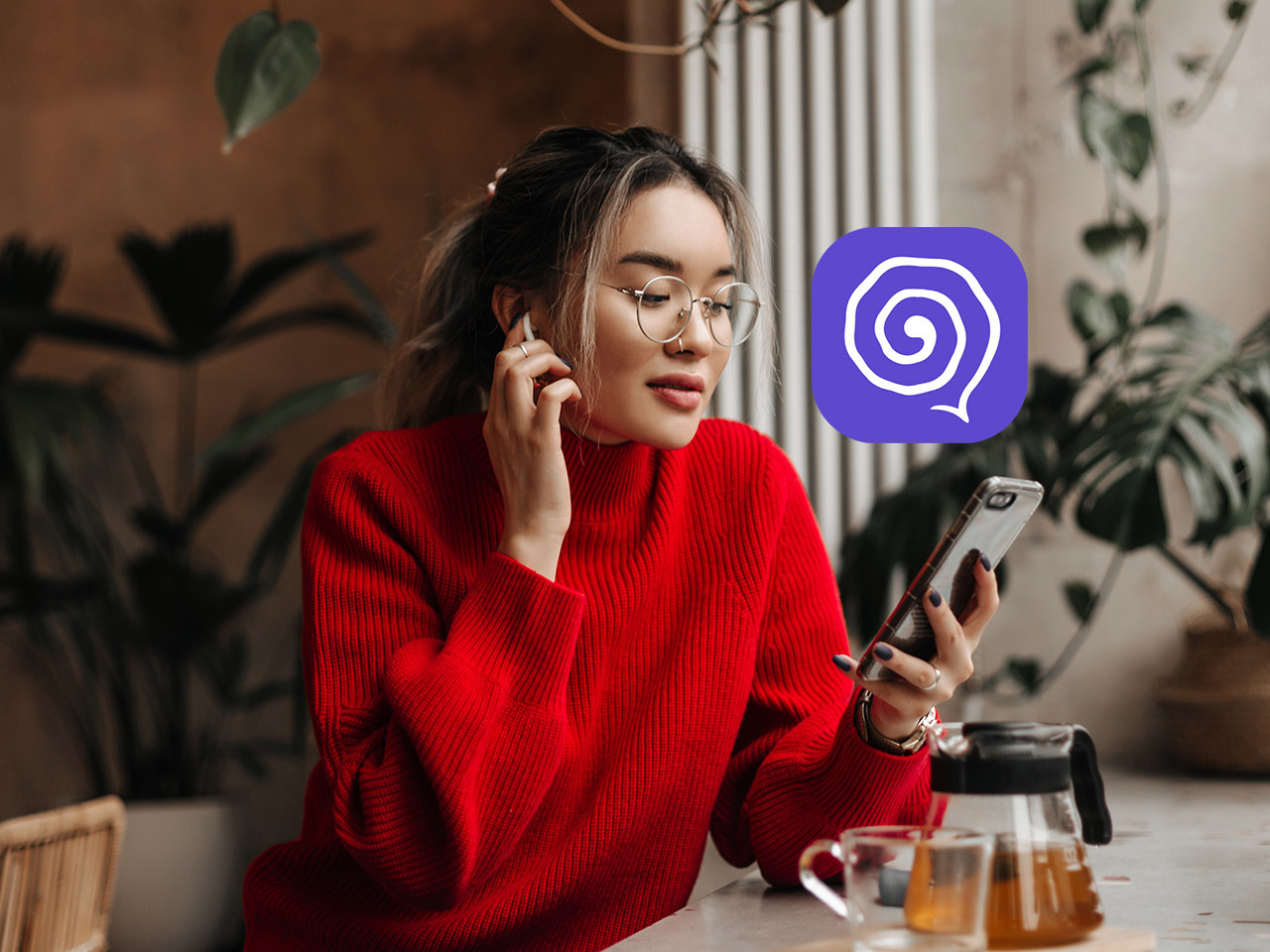 Mocha - Super app with huge entertainment data store

Mocha is a supper app and is developed by Viettel Media, and its orientation is to become an important tool in Viettel's four digital pillars (digital content, digital solutions, digital commerce and digital finance). This supper entertainment application is aimed at young users, and adapt their needs of listening music, watching movies, reading news, playing games, ... and connecting with other applications of ViettelPay, MyViettel, MyGo.
Mocha had a spectacular transformation in 2019, when Viettel Group with a big vision and determination, directs a whole new direction for the product. Mocha has separated itself from the red ocean, transforming from a free chat and messaging tool that competes with many other applications on the market, to a super application that specializes in providing diverse entertainment services to users in the form of a social network for young people.

The problem of creating a seamless user experience on a super app with countless utilities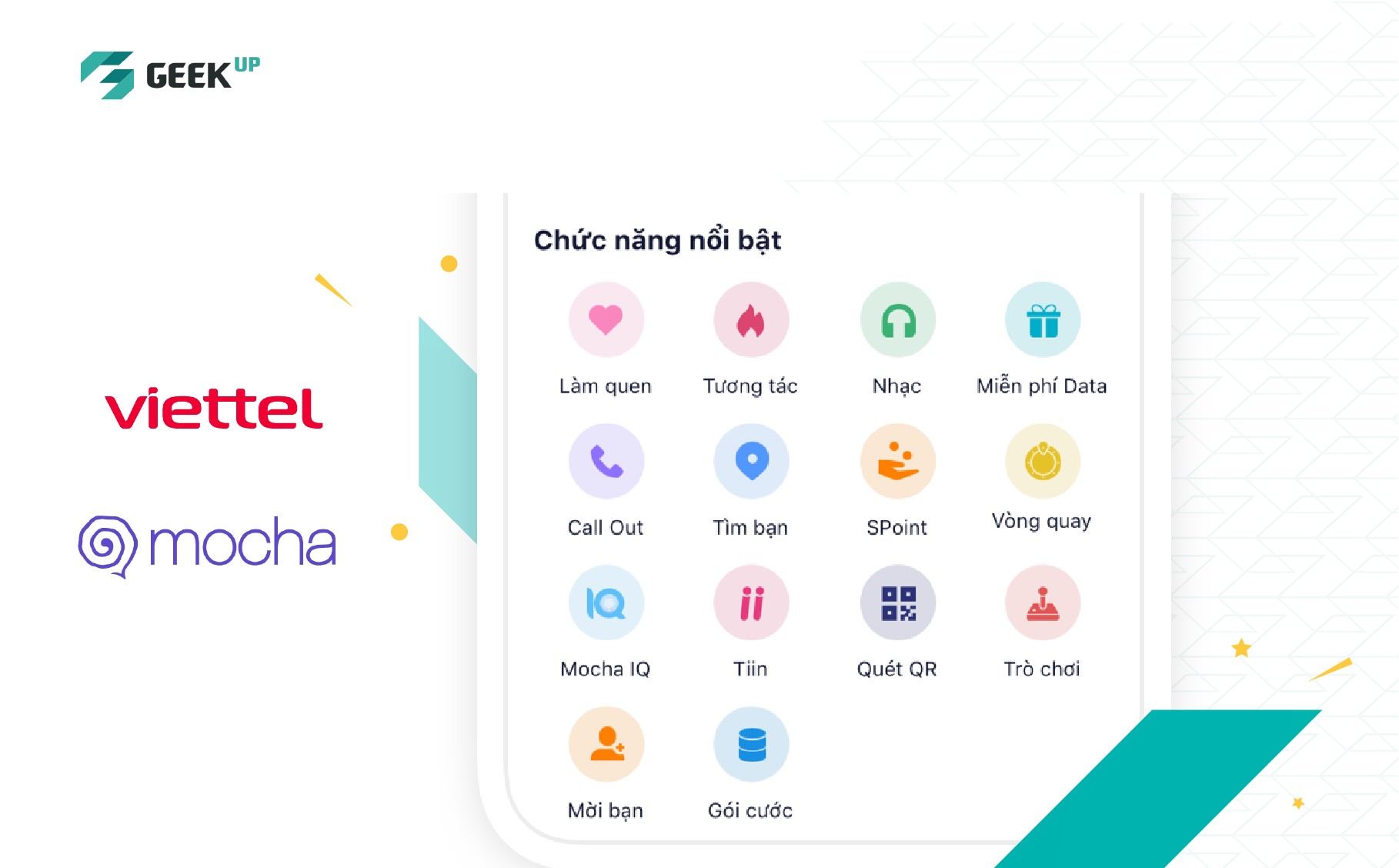 Compared with many social networks built by a domestic enterprise, Mocha has the largest and most diverse content store, including 10,000 hours of movies, more than 1 million songs, 2 million videos, and 100 newspapers nationwide, and etc. At the same time, Mocha has a great advantage regarding the available telecommunications utility services.
Mocha's problem is how to help users naturally experience all the utilities provided by Viettel without being overwhelmed at first access. Next, how to keep them on this multifunctional super app.

In 2019, Viettel Media decides to cooperate with GEEK Up to solve the user experience problem for Mocha.
3 big problems of super app Mocha
After 6 months of focusing on collecting, researching and analyzing user behavior, the GEEK Up Product team has designed a new interface that fully meets the user's scenarios on Mocha. 17 features (features) are visualized on 1196 screens.

The large number of screens plus many effects, to help solve 3 big problems. These are also common problems with Super Apps.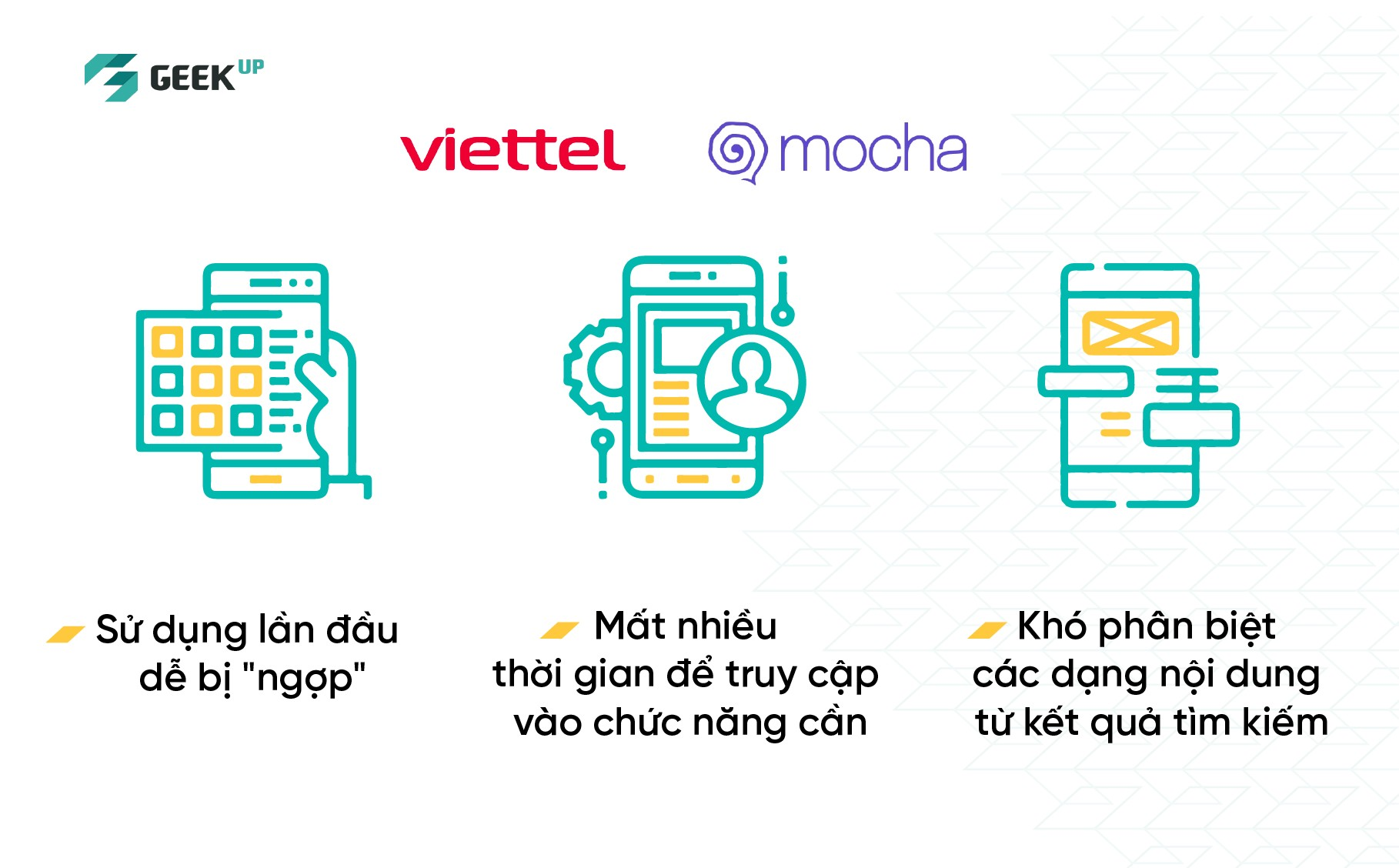 1. Help users not be "overwhelmed" in the first time accessing the app.
Most of users will only download the app because of the need to use one or two main functions, then learn more. Therefore, GEEK Up Product team navigates the first screens of the app to introduce only the most user-friendly main functions, flexibly combining many different ways of introduction to guide users each time they visit into the new function.
2. Help users save time when they need to access their favorite functions.
The Home page on the application has been customized according to the user's frequency of using the features. Moreover, users can actively customize according to each usage context. Besides, new or unused functions in Mocha are also posted on the Home page to promote features to users.
3. Help users distinguish relevant types of content from search results on the app
Mocha allows users to sign in once, search once, and get multiple entertainments that interest them at the same time. With content types such as news, music, contact information, movies, .. each form will have its own format. As a result, users can easily classify the form of information on the app after searching.
"Sweet Success" from Viettel Media's constant efforts to upgrade user experience
The "entertainment super app" Mocha has been honored with many prestigious professional awards such as:
Best Telecom Product at the International Business Awards, IBA Stevie Awards 2020
Typical products, services and digital solutions at the Vietnam Digital Awards (VDA) 2020
After only the first six months of 2019, Mocha achieves user growth of up to 58%, reaching more than 7 million monthly active users. This is the fastest growth since Mocha was born.

This success motivates Viettel to continuously invest large resources in Mocha, aiming for Mocha to reach 20 million regular users, covering young customers from urban to rural areas in Vietnam by 2020, then expanding to other target groups.
-----
Contact GEEK Up if you need advices for digital product solutions from a Trusted Product Partner with expertises in UX/UI design.
📞 Hotline: +84 93 500 3830
📧 Email: hello@geekup.vn
🌐 Website: https://geekup.vn/
📍Address: 244/31 Huynh Van Banh, Ward 11, Phu Nhuan District, HCMC
Get latest updates from GEEK Up