Building Empathy Maps: When the product team put themself in user's shoes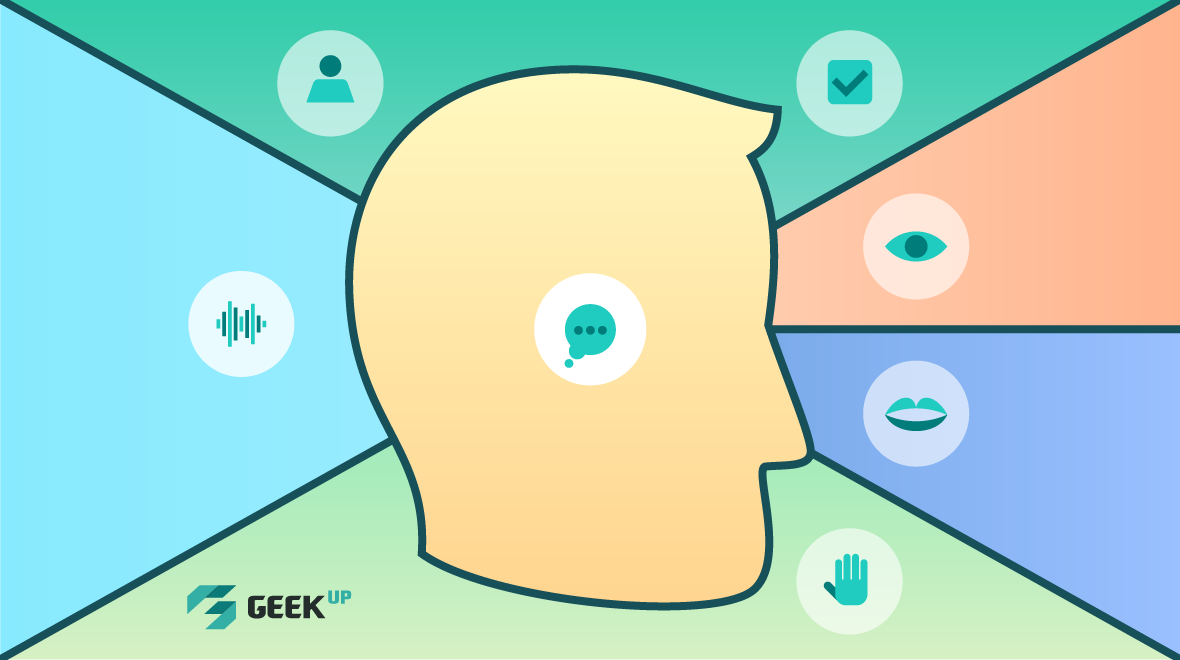 With a detailed empathy map, the product team can easily align on a general direction to product solutions, minimize the common bias that UX/UI designers need to be aware of, and uncover insights that motivates users to take action, reveal new opportunities, and provide a visual perspective that helps product teams identify areas to prioritize resources.

The insights in the empathy map help the product team identify and focus on building solutions that bring the greatest impact and effectiveness in research, product planning, experience design, and technology decision in the development process. Hence, creating a premise to build digital products that have a positive impact on user's lives as well as business.
What is empathy?
Encyclopedia Britannica defines empathy as "the ability to imagine oneself in one's shoes in order to understand that person's feelings, desires, ideas, and experiences".
For the product team, in order to effectively implement the process of user empathy, it is necessary to minimize making personal assumptions and prejudices. At the same time, the team should also actively interact with the target users to foster additional insights about users' emotions as well as specific actions in certain situations, from which to have suitable solution ideas, positively impacting the user experience.
Read more: User Empathy: The factor to create a "gravitational pull" for digital products
Why should the team create empathy maps?
Creating empathy maps is a process by which members work together to create an overall picture that outlines the product team's information and understanding on various aspects relating to the target user. Empathy maps represent the team's overall perception of needs, thoughts, feelings as well as what the user "sees, hears, does" in the relevant context.

Building empathy maps to help product teams:
Classify and organize qualitative research results (research notes, survey responses, interviews, ...) in an organized manner
Discover information and knowledge gaps in the picture of user insights, thereby identifying the types of research that need to be done to fill in the gaps
Detailed sketch of the user (persona) by synthesizing information around the target audience
5 things to clarify when empathizing with users
What is the purpose of the user when using the digital product that the team is building?
What tasks do users need to perform to get closer to goal fulfillment?
How does the user feel when performing these actions (positive and negative)?
What are user's "pain points" during their experience journey?
Which factors affect the user during the experience?
What information sources do they refer to?
7 Indispensable Aspects When Building Empathy Maps
The original User Empathy Map focuses only on 4 basic aspects of the user including "Says, Thinks, Feels, Does". Over time, many improved versions have been developed, notably the "Empathy Map Canvas" created by duo Dave Gray and Alex Osterwalder, which delves into not only 4 but a total of 7 aspects of the target user as follows: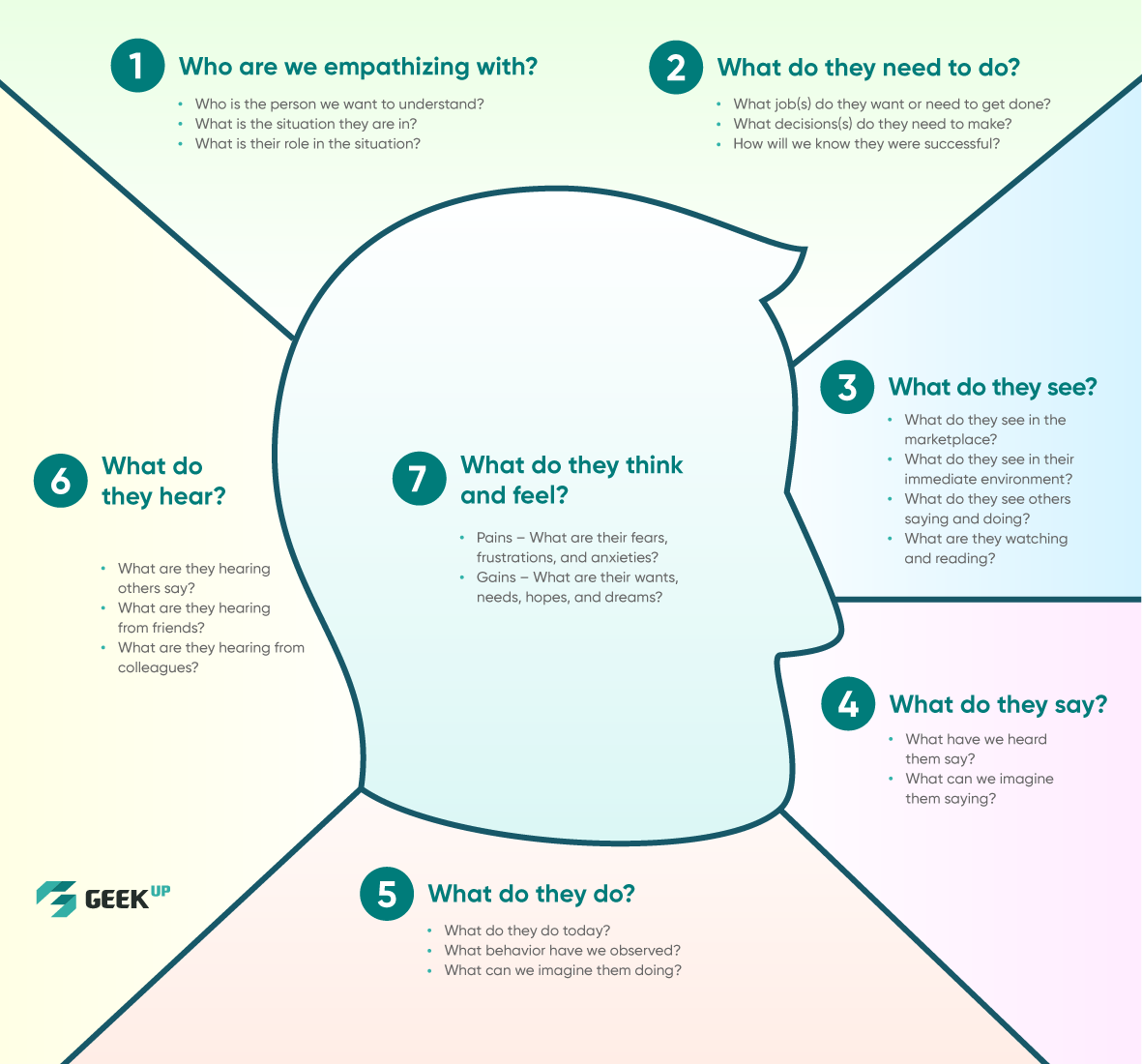 Exploring early insights is just as important as synthesizing information into an empathy map since it provides invaluable material for fully outlining all aspects of the user persona as well as thinking through the entire landscape of the user experience journey.
3 Important things to note when building empathy maps

1. Do not focus on ideal cases only
One of the most important things to keep in mind when sketching the picture of the target audience is to focus only on ideal cases without capturing the common characteristics of the whole target user in different contexts and situations. Therefore, the team should not only consider ideal scenarios, but also needs to develop solutions, experiences, and products that meet users' needs in broader contexts.
2. Discover insights for various purposes
Building an empathy map can serve as an initial understanding before embarking on a digital product. Hence, help the team form strategies, clearly define product requirements, prioritize opportunities to satisfy important users' needs to bring solutions that create the most value.
In addition, the team can also apply empathy maps for operating products to collect new insights, and adjust the product roadmap accordingly. Empathy maps also help detect gaps between what businesses know and don't know about users, so that they can decide to do the necessary research and interviews to get more insights to serve the process. product finishing.
Involving members from relevant departments
If the product team is responsible for creating the product, then the marketing, sales, and customer success teams also have certain impacts on the user's touchpoint in the product experience journey. Having more relevant insights from these internal teams will help the product team get an overall view of the customer experience journey instead of just being limited to a certain scope.
Reference: emergeinteractive.com
-----
Contact GEEK Up if you need an insightful consultation for digital product solutions from a Trusted Product Partner with expertises in UX/UI design.
📞 Hotline: +84 93 500 3830
📧 Email: hello@geekup.vn
🌐 Website: https://geekup.vn/
📍Address: 244/31 Huynh Van Banh, Ward 11, Phu Nhuan District, HCMC

Get latest updates from GEEK Up