7 Digital Banking Transformation Trends in 2022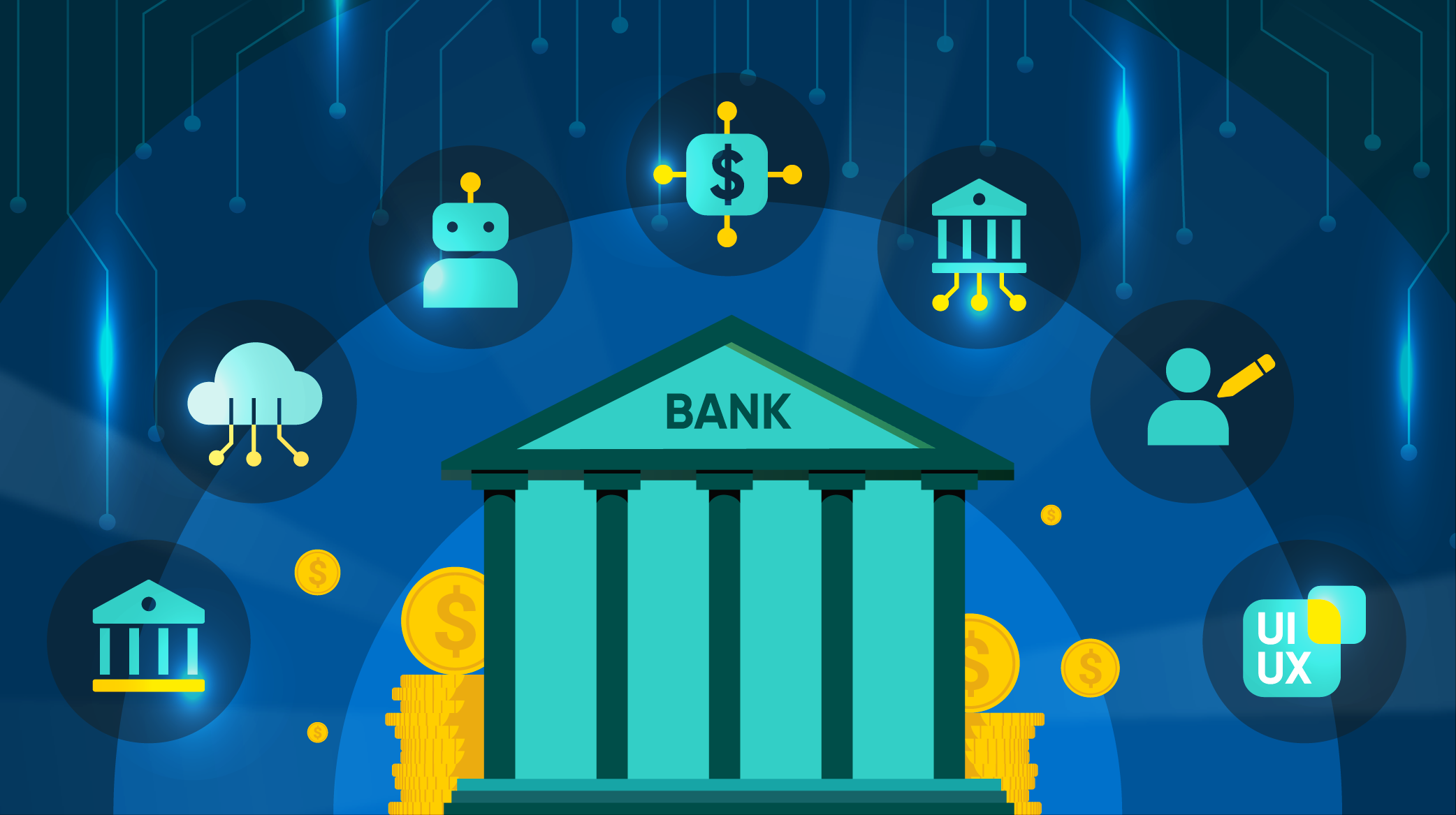 Allison Beer, former Head of Digital at JPMorgan Chase – one of the oldest financial services firms in the world, shared: "The pandemic has demonstrated that digital banking is essential for consumers of all ages to confidently manage their finances". The 2020 survey to 1.500 customers of JPMorgan Chase also exposed a significant data: 54 percent of consumers agreed that they use digital banking tools more due to the pandemic today. Digital banking is the key to the development of banks in the future.
In order not to miss the digital transformation "train" in the 4.0 era, banks must update continuously the latest trends to apply in digitization process and enhance competitive capacity. What are the highlight trends of digital transformation in the Banking industry in 2022? Let's explore more in this blog with GEEK Up!
1. Open Banking
Open Banking allows third-party service providers – like tech start-ups with the outstanding financial services ecosystem – to access safely to the customer's financial data and optimize personalized services and communication delivered to each customer. Open Banking also helps customers to access their own financial data with high control and security, as well as enhances the experience with products or services that are customized and personalized based on financial data
2. Digital-only bank
Without any physical branches, operated online-only and providing services entirely via mobile apps with better preferential interest rates and service fees than traditional banks, this digital-only banks are serving a distinct segment: customers prefer services with the lowest fee and almost their needs can be solved through the internet or smartphones.
These challengers have pushed many traditional banks to implement digital transformations quickly, as Galileo Financial Technologies' "2021 State of Consumer Banking & Money Survey" revealed: the majority of consumers (62%) indicated that they are somewhat or highly likely to switch to a digital-only bank. However, Millennials (77%), Gen Z (72%) and Gen X (55%) expressed the greatest likelihood of switching to a digital-only bank.

3. Cloud Computing
It is data and software delivered through cloud computing that brings many advantages to banks such as saving the operation cost, expansion on global scale, enhancing efficiency, speed, security, reliability and convenience. This also helps banks to limit the possibility of data loss due to natural disasters or force majeure events, solve the problem of organizing cumbersome physical server systems, and centralizing data in "Data silos", which allows only one HR department to access and is separate from the rest of the organization.
4. Automation system
The automation system has made a positive impact on the banking industry in terms of enhancing efficiency in the processing of internal data, saving cost and time. More and more traditional banks apply the automation system to day-by-day tasks such as back-office or customer supports: minimizing input data by Optical Character Recognition (OCR) or tasks can be applied with Robotic Process Automation (RPA).
5. Embedded Finance and BaaS
According to the survey to financial services in 2021 conducted by Finastra – the fintech company based in London, BaaS (Banking-as-a-service) and Embedded finance showed incredible growth, with 85% of higher-level executives in the global financial organizations claiming that this trend significantly impacts on the banking industry. A huge number of retailers and technology companies are transforming into Fintech organizations by embedding all of their financial services in their products. It was notable that customers are also willing to use some services provided by Non-bank Financial Institutions.
6. Super Personalization
Up to 83% of users indicated that they are willing to share their personal information to exchange personalization experiences, as mentioned in Accenture's 2018 Pulse Check report. The flourished of Artificial intelligence (AI), Big Data, and Machine Learning unlocks the ability of specific designs to fit each individual. Personalization not only sends messages attached with customer's own names but also clarifies which customers' favorites and needs are, then suggests some packages of banking services/ products or marketing activities for each customer.

7. Enhance UX/UI Experience
"After the pandemic, digital experiences will be a vital factor to differentiate financial organizations from the competition, thereby banks will not only provide digital applications for transaction operation but also digital experiences connected to consumers based on level of emotion", shared by the experts from Temenos AG, a leading corporation specializing providing banking software.
Nowadays, user generations (Gen Z & Gen Y) are more an more appreciated the visual experiences. The visually & friendly UI for customers becomes a vital factor when building digital products. Customers would like to track financial figures through charts, infographics, and interactive modules instead of Excel sheets. Moreover, there are experts event emphasize that the banks now spend more resources on optimizing websites and applications than decorating their physical branches. User experience is increasingly becoming important as a "weapon" for competitive advantage, and digital banks need to create trendy and visually appealing platforms to retain users, in addition to useful features.
As one of a typical Digital Banks in Vietnam, TPBank - which focuses on the mission "How to make individual financial services most convenient", collaborated with Product Partner – GEEK UP together to build the seamless "Wow" experience in TPBank's app ecosystem through Design System including main factors from screens designed, as well as Platform Guideline which determines important elements in the design. All helps TPBank's product teams to easily develop add-on functions while ensure the consistency in the ecosystem.
These improvements have contributed to TPBank's successful apps which was nominated for the Top 1 of Vietnam's financial applications in October 2020 (TPBank Mobile); The remaining apps also achieved high ratings on the App Store and Google Play app markets.
Read more: Enhance User Experience for Tien Phong Digital Bank - The Showcase
In summary, Digital banking is one of the prominent keywords of the banking industry nowadays and 2022 is an important milestone in the bank's digitalization strategy when customers have formed the new habits and constantly use digital banking to meet their essential needs. It is imperative for banks to quickly commence digital transformation and build strategic digital products which are capable of delivering a seamless experience, and satisfying user's needs to sustainably retains them.
References: thitruongtaichinhtiente.vn, geniusee.com

Get latest updates from GEEK Up