User Empathy (part 2): Value methods are indispensable for the product team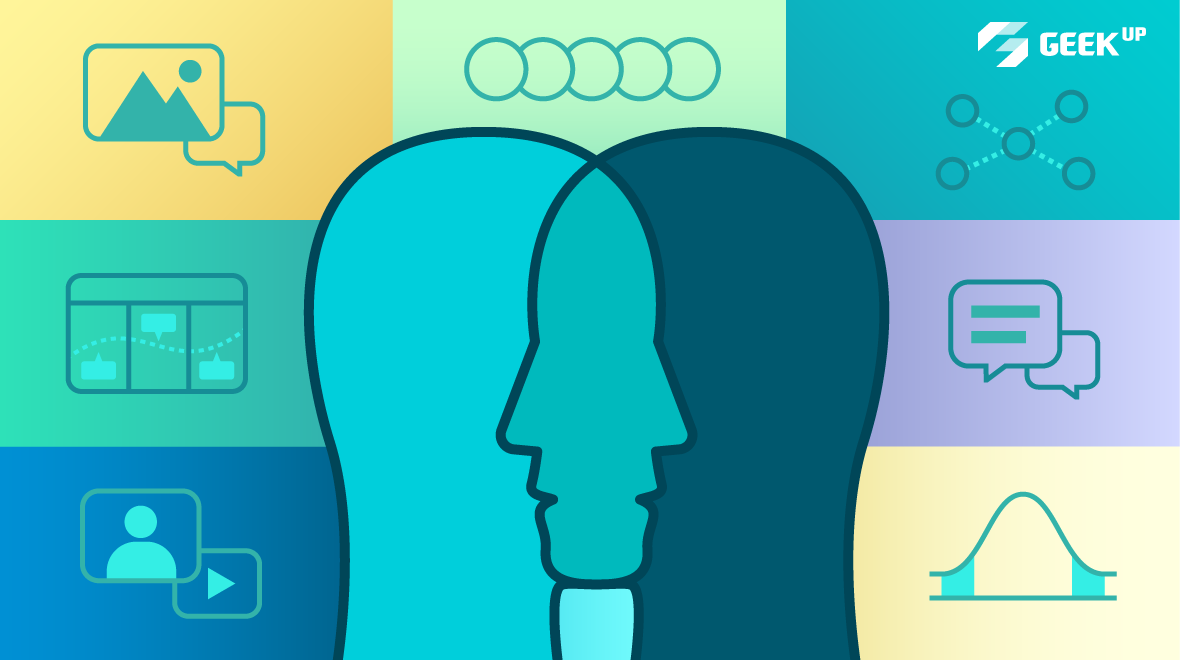 Without a doubt, User Empathy plays an increasingly vital role in the digital product building process as it provides valuable insights to the product team.

Read more about popular User Empathy methods and tips which are mentioned in GEEK Up blog to enrich your knowledge.

The popular User Empathy methods to effectively collect users' insights
The product team can combine different research methodology to sketch the overall picture which contains value insights to the process of the digital product development, including:
Direct Observation (What? How? Why?): This method is about to build the appropriate questions to turn observations into useful insights, uncovering users' hidden motivations. "What"- describes the details of the observation. "How"- analyzes the true reasons behind the users' behaviors (or why they're getting troubles) and "Why"- puts out the assumption of emotions and motivation for their actions. The team can also use the 5-Whys Method to search for more insights.
Indirect observation/recording (video-based, photo-based study): The team can ask users to record their experiences when approaching a problem, then help them to detect the users' pain points more accurately.
User diary (Personal photo/video journals): Đội ngũ sẽ yêu cầu người dùng ghi chép lại các trải nghiệm khi tiếp cận một vấn đề, giúp phát hiện "nỗi đau" của người dùng chính xác hơn.
Interview with Empathy: The product team works together to create the open-ended questions in the most natural and closest structure. After that, the team conducts interviews by collecting insights in an open & friendly space so that users can give honest answers which contain insights.
Interaction with unpredictable users: Filtering feedback from the most unpredictable users to determine what their needs, problems, and the best problem-solving methods are. This approach provides a broader picture containing details that the vast majority of users may not concern. If this could satisfy the needs of those users, the team will also succeed in conquering the majority of users.
Analogous empathy: The team will find similarities between the user's obstacles and similar problems in other areas or environments, thereby summarizing insights that may be missed if the study is limited to a specific research group. At GEEK Up, the product team refers to user behavior from one market to compare with another to recognize relative differences, hence gaining more insights about appropriate solutions (level of analysis, complexity approach,...).
Bodystorming: Each team member will in turn share their own stories and observations about the users' issues, then take conclusions and highlight insights.
Inspiring stories: Mỗi thành viên trong đội sẽ lần lượt chia sẻ các câu chuyện, quan sát của bản thân về vấn đề của người dùng, từ đó, rút ra các kết luận, các điểm nổi bật về insight.
Customer Journey Mapping: Assemble observations and insights into an experiential journey from the users' perspectives to provide the product team an overall picture of the issues as well as their motivations when using digital products, assisting to detect unknown insights (if any).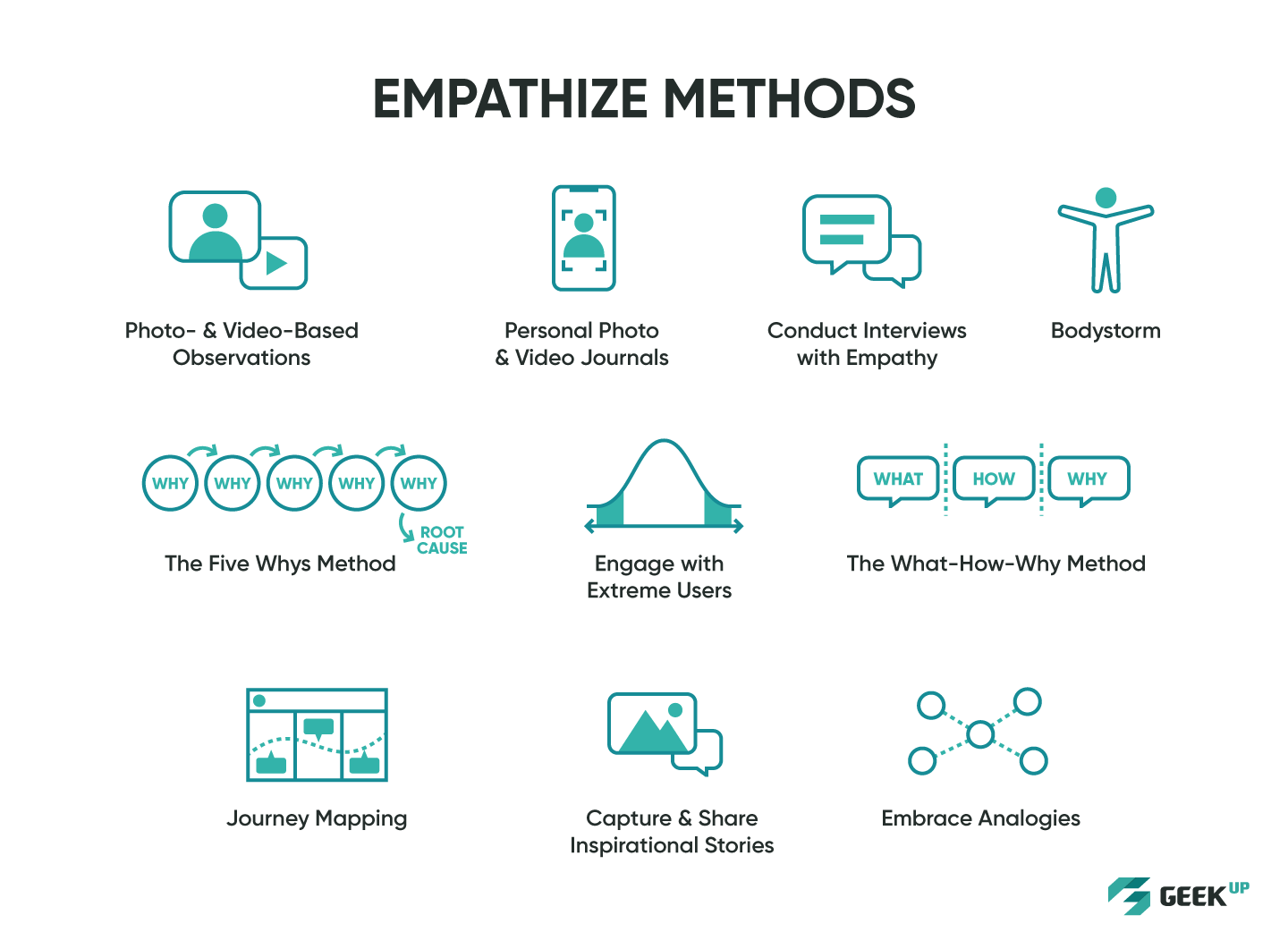 How to effectively empathize with users?
Practice Perseverance: generously listen and thoroughly explore the expressing the users' viewpoints and perspective.
Prepare vertical background knowledge: the more the product members understand industrial backgrounds, the more they quickly grasp the content that users and businesses will share.
Enhance observation ability: spend time on observing and analyzing the users' behaviors whenever there is an opportunity in daily life.
Practice listening: gain more levels of listening and practice effective listening skills.
Keep a fresh mindset: Whenever interacting with users, let your mind go blank like a beginner so that you can deeply understand what they want to convey, what they are doing, and their goal when using the product is.
Drop the initial assumptions: remember the impacts of personal biases, beliefs, and assumptions in observing users to collect the most objective insights.
The ability to imagine: put yourself in the users' shoes, or face similar situations that users may encounter to deeply understand the thinking and emotions from the users' point of view.
Refrain from making judgments: avoid hasty judgments and thoughts about solutions in the empathy research phase.
Conduct Self-Empathy: actively practice empathizing with yourself to increase empathy for users. It is the practical experience being delivered by the GEEK Up team during the product design process.
Accumulate basic knowledge of behavioral psychology: it is a very big challenge for the product team to understand users' insights, if they lack this knowledge. Although they spend countless time observing users and recording all their actions, thoughts, and feelings.
Combine multiple methods: To get an overall picture of User Empathy and their journey, the product teams need to align results from multiple methods. Instead of making assumptions that are derived when the methods are implemented in a sporadic and unsystematic manner.
GEEK Up promotes User Empathy when collecting insights to ensure to "build the impactful product"
As the Trusted Product Partner, we always utilize the empathy process and deepen users' insights when working on digital products, especially in the research and sketching stages of projects and product strategy that bring the effective results for our Partners. "Build the Right Product" from the very first beginning will help to shape the project in the right direction. The next stage, becoming an "Impactful product" that satisfies the needs of users/ customers, in line with technological capabilities, creating the positive impacts on Enterprises' business growth activities.
Reference: interaction-design.com

Get latest updates from GEEK Up