7 BFSI UX/UI Design Trends That Will Take Over in 2023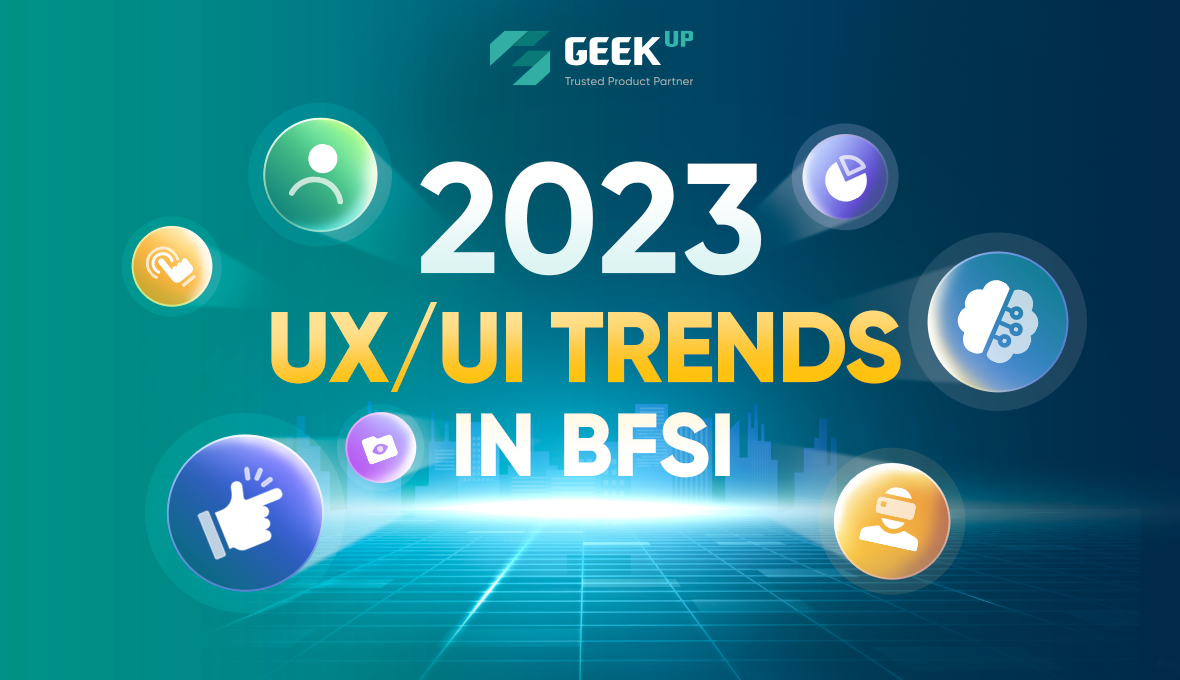 1. Hyper Personalization
Personalization in User interface (UI) continues to be trending in the long term. This aspect is especially useful to retain users when most people prefer to customize Financial digital products following their own "goût", including elements such as light/dark themes or widgets.
With the advancement of technology, personalization goes beyond customized dashboard or navigation to provide predictive recommendations on a hyper-personalization level.
Compared to conventional personalization, which uses data analytics to deliver Sales & Marketing messages to different customer segments, hyper personalization drills down to the individual users, using a combination of Predictive Analytics, Artificial Intelligence and Machine Learning to collect data and respond like a real-time one-to-one consultation session.
2. Simplicity
Some Financial instruments are difficult to understand for the majority of users. If the Financial organization uses complex terms that can confuse users, it is necessary to explain complex concepts into simple terms so as not to frustrate users.
A simple and clean design will help users not be pressured with their cognitive load. To keep it simple, the team can consider eliminating repetitive operations, details that distract users, or multitude of choices that make them overwhelmed.

3. Interactive Data Visualization
Dashboards with tables and graphs that summarize financial information is often loved by users and significantly improves their experience on digital products. Graphical interpretation instead of mere numbers gives users a better understanding of income and expenses and the relationship between them.
Businesses can also go further by providing interactive dashboards and providing information that predicts users' spending trends based on machine learning algorithms, bringing more value to users from their own data sources.
4. Trí tuệ nhân tạo thích ứng (Adaptive Artificial Intelligence)
Không chỉ có các công ty Fintech, nhiều tổ chức Tài chính cũng đang nỗ lực triển khai các giải pháp AI thích ứng có thể liên tục cập nhật các dữ liệu mới theo thời gian. Gartner dự đoán đến năm 2026, các công ty sử dụng AI thích ứng sẽ có 25% lợi thế so với các đối thủ sử dụng các mô hình AI truyền thống.
Not only Fintech, Financial institutions are also working to deploy adaptive AI solutions that can continuously update with new data over time. Gartner predicts that by 2026, companies using adaptive AI will have a 25% advantage over competitors using traditional AI models.
5. Humanizing Digital Experience
Although digital channels and AI are both the main trends in customer experience in the BFSI in 2023, human interaction still has some value. Many Financial organizations offer a mix of AI and live support for customer service, ensuring efficiency but still bringing a sense of human touch.
Some Financial institutions also experiment with different solutions to make chatbots and AI services feel more "human", such as giving chatbots personalities, or using customized conversation openings, leveraging sentiment analysis to detect user emotions and provide more relevant responses.
6. Data Usage Transparency
To interact on a hyper-personalized level, businesses must collect and analyze large amounts of user data. This poses a security problem in addition to efficient collection. Data leaks can significantly damage the journey to build up customer's trust.

According to KPMG's research, 86% of consumers say that data privacy is a growing concern for them, 68% are concerned about the level of data being collected by businesses while 30% are not willing to share their personal data for any reason.
To minimize the negative impact of this aspect on the financial user experience, businesses should strive to be sincerely transparent with customers about the use, processing and security of personal data in order to express goodwill and build trust in customers.
7. Tăng cường các lựa chọn hỗ trợ khách hàng (Increased Support of Self-Service)
According to Zendesk, 69% of customers prefer to solve their problems on their own through self-service methods instead of talking to customer service. Microsoft's research also shows that 90% of customers expect businesses to provide options to help solve their problems, ranging from:
Knowledge base
Product FAQs
Tutorials
AI-powered chat and messaging
Automated contact centers
By providing solutions that help customers solve their problems, businesses can enhance customer interactions as well as the overall experience.
Beside traditional self-service solutions, technology plays an increasingly important role. Augmented reality (AR) solutions can help customers interact with brands and products more comprehensively and intuitively.

Advancements in natural language processing and enhanced conversational intelligence have made chatbots more efficient, and automation makes it possible for customers to find the right information without having to contact a human directly. As a result, Financial institutions will be closer to delivering an effective human experience without involving a human.
Source: forbes.com, thefinancialbrand.com, global.hitachi-solutions.com, catalystux.com, adamfard.com, arounda.agency

Get latest updates from GEEK Up